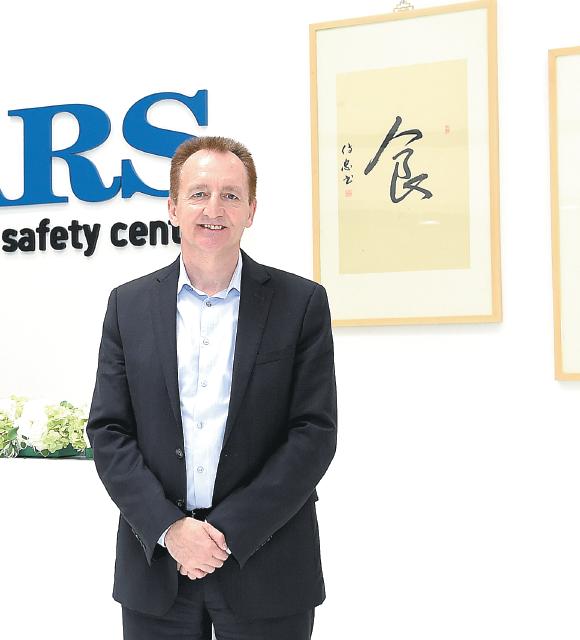 Grant Reid in front of Mars, Inc's global food safety center in Beijing. The Chinese character on the wall means "Food". [Photo provided to China Daily]
Food company wants to invest for next 50 years, or even 100 years, says its chief
It is one of the largest food companies in the world with about $33 billion in sales, but one that has always managed to stay under the radar. Despite the low profile, most of Mars, Inc's brands are household names, be it the Mars or M&M's chocolate, Wrigley's gum or its range of petcare products.

Grant Reid, the president and CEO of Mars, Inc, believes that China is still the sweet spot in the company's long-term plans, despite the slowing economy.
"We want to continue investing for the next 50 years, or even 100 years. And we can do that only as a private company," he said, when asked as to why the company invested $15 million on a global food safety center in Beijing in September.
"About 95 percent of what we do in this center is what we call pre-competitive and we make it available for everyone, including our competitors," said Reid, who has been with Mars for 27 years.
"What we are trying to do is to raise the standards for the whole industry, be it the segment we are in, or for other food segments around the world."
Reid spoke extensively to China Daily about Mar's business strategies in China, his style of leadership, how the 104-year-old company is waking up to a changing world of e-commerce. The following are edited excerpts:
How does the investment in a food safety center help with your long-term plans in China?
We have been in China for a few decades and we have got 13,000 associates. We also have seven state-of-the-art factories. Rather, we have deep roots in China.
We are not looking at an investment for one or two years. Instead, we see it as something for 50 or even 100 years.
We consider China more like our second home. As for the current investment, we think it is a good fit for our business and gels well with our future strategies for development in China.
I think that the center will be an ideal fit as there is an increasing awareness about food safety, both at the local and governmental level. The center will also help establish China's global credentials.