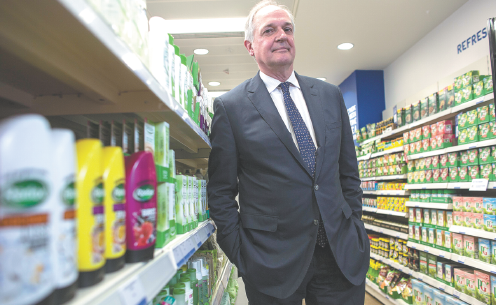 Paul Polman, chief executive of Unilever Plc. [Photo/Agencies]
Firms must focus on sustainable sourcing, zero waste, says Unilever chief
Paul Polman, chief executive officer of consumer goods giant Unilever Plc, believes that it is important for companies to invest in green business models, especially those that hinge on sustainable sourcing and zero waste.
Polman, who once trained as a priest, says Unilever, which owns several leading household brands like Dove soap, Persil detergent and Flora margarine, has been at the forefront of sustainable development, and most of its brands are now delivering stronger and faster growth.
"Consumers are increasingly demanding responsible business and responsible brands. Most of our products have seen double-digit growth rates," he said.
A native of the Netherlands, Polman was nattily dressed in a suit with Unilever cuff-links when he sat down to talk with China Daily in its new factory in Tianjin recently. Keeping him company was his trusted dark brown leather suitcase, which is a permanent fixture on most of his travels.
With over three decades of retail experience behind him at companies like Nestle SA and Procter & Gamble, Polman had donned many hats before he took the mantle at Unilever in January 2009.
Polman admits that it was his life-long passion for consumer products that prompted his long stint in the sector. Though he refuses to take credit for it himself, industry experts often cite his interpersonal approach as the key behind the Anglo-Dutch company's success.
The chief executive said the last 15 years have been all about localizing production in China, especially with an eye on long-term growth in emerging markets.
In September, he attended the Annual Meeting of the New Champions, also called the Summer Davos, in Dalian. He was one of the first industry leaders to raise questions about the Chinese economy with Premier Li Keqiang.
"I had the privilege to interact with Premier Li Keqiang in Dalian and exchange thoughts. He has a clear vision and is confident about the economy in the long term. Many Chinese business leaders are now ready to take center stage in the global arena. There are also many creative and growing industries in China that we can learn from," he said.
Following are edited excerpts of the interview:
How do you perceive Unilever's future growth in China, when the country's economic structure is undergoing profound changes?
Unilever continues to be confident on China. We are investing in China for the long term and expanding our footprint here.
We opened a new factory in Tianjin in September, which reiterates our confidence in the country. This is a high-tech factory that uses green energy and produces sophisticated products.
What are the main responsibilities of the new Unilever facility in Tianjin?
Unilever has 11 factories in China. They are distributed around three regions. Hefei in Anhui province of East China hosts Unilever's largest factory in the world.
We also have plants in Meishan, Sichuan province in Southwest China and in Tianjin, North China.
Tianjin has several locational advantages. It is responsible for producing food products like salad sauces and chicken essences for the North China market.
It will also export products to the northeast Asian market and the European market in the future.
The Tianjin factory is currently one of our best factories in the world, with the most advanced and green techniques.