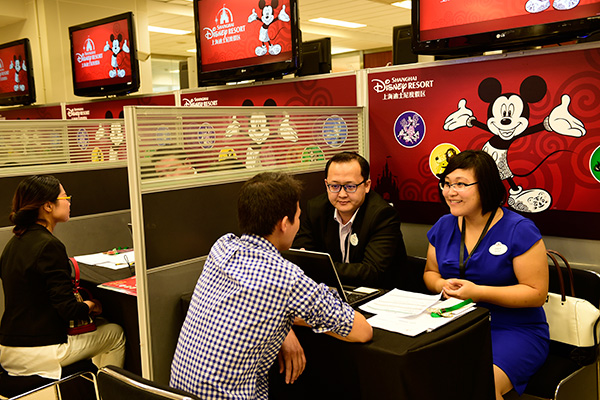 A prospective candidate facing the interview board in Shanghai on Wednesday. The Shanghai Disney Resort, expected to open early next year, is set to create more new job opportunities in the city. [Photo/China Daily]
Though it took 25-year-old Ling Zhiqiang a full day to travel from Yunnan province to catch the first round of job fairs held by the Shanghai Disney Resort on Tuesday, he does not regret it as he believes it is a life-changing opportunity.
Ling quit his job as a transportation worker in a hotel in a small town in Yunnan and opened an online shop to sell clothes a year ago. But, when he spotted the Shanghai Disney recruitment advertisement, he considered it an opportunity to fulfil his dream of working for a global company.
"Shanghai Disney is a promising work place that will help me gain knowledge and experience from a long-term perspective," said Ling.
Ling was excited to learn during the interview that the company allows everyone to try working in different positions at the resort and choose what they are good at later.
The job fair attracted hundreds of applicants such as Ling from all over the country for 30 positions.
The four-day event is the first recruitment fair organized by the Shanghai Disney Resort to kick off the preparations for its opening early next year.
"We look forward to hiring and training great local talent who will deliver warm hospitality and renowned guest service to help our guests make memories that last a lifetime," said Philippe Gas, general manager of Shanghai Disney.
To get ready for an expected high number of tourists after the opening, the resort will recruit a large number of staff for each sector of the resort, such as ride operations, guest services, custodial and cleaning, retail operations, food and beverage operations, engineering and maintenance, security, and hotel operations.
After the one-hour interview, Ling was lucky to receive a confirmed offer as he applied for a position that does not require him to speak English.
"My goal is to become the head of transportation at the resort within three years," said Ling.
For certain job positions such as entertainment host, guest service and park greeter, English is an essential skill for applicants.
Zhang Liangguang, an applicant who applied to be an entertainment host, said: "I thought I applied for the position that required the least related working experience, but I still failed to pass the interview as my spoken English was not up to the mark."
Although Shanghai Disney Resort claimed that the first two days of the job fair were open only for pre-registered candidates and the other two for the general public, the online registration platform has been jammed and the four-day job fair has been fully reserved by online applicants. Those not registered online are have been asked not to come by since the interview vacancies for the first round are filled.
A series of job fairs will take place in the city in the following months, aiming to attract talent with experience in the tourism and service industry.
Shanghai Disney currently employs more than 1,500 local staff members working on the development and operation of the resort. It will have six themed areas, including Mickey Avenue and Tomorrowland.