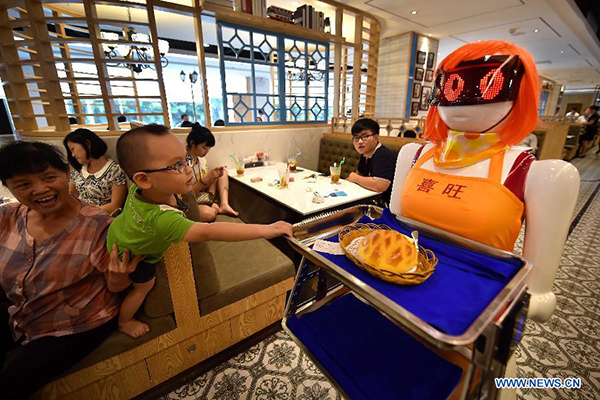 A boy is fascinated by a robotic waitress at a restaurant in Haikou, Hainan province. [Photo/Xinhua]
Strategic industries related to issues ranging from the reform of State-owned enterprises to industrial upgrading and greener growth are expected to get a boost under the 13th Five-Year Plan (2016-20) despite a likely lower overall growth target for the period, analysts said.
The draft plan of China's social and economic development for the next five years will be reviewed and deliberated at the Fifth Plenum, a key meeting of the Communist Party of China, next week.
It will also be the first development blueprint drafted under the leadership of President Xi Jinping.+
Economists and analysts have suggested that Beijing is likely to set an average of around 6.5 percent growth rate for the next five years as the official bottom line, which is lower than the 7 percent set out in the previous five-year plan.
But experts expect the bright spots to be the country's service sector and a slew of strategic industries, including information technology, high-end manufacturing, new-energy vehicles, new materials, energy saving, bio-medicine and agricultural machinery, which will all likely benefit from the plan.
"These sectors are aligned with China's future economic strategy of moving up the value chain and delivering quality economic growth," said Kamel Mellahi, a professor of strategic management who researches the Chinese market at the Warwick Business School in the United Kingdom.
"I especially expect the idea of Internet Plus to feature prominently, as it will be promoted to boost productivity in strategic and traditional sectors," he said.
Chang Jian, a China economist at Barclays Plc, echoed the point, saying that the new five-year plan will include a number of policies to upgrade China's industrial power as the government has already prioritized key tasks, including improving manufacturing innovation, integrating the information technology industry, enforcing green manufacturing and promoting manufacturing-related services sector.
"The 13th Five-Year Plan will be critical for China to carry out a series of new initiatives such as 'Made in China 2025' ... to facilitate the country's transition from an exporter of manufactured goods to an exporter of capital and technology," Chang wrote in a research note.
Chang also said that the SOE reform will gain further momentum from 2016 to 2020, which is aimed at introducing market-based incentives and modern corporate structures to improve the economy's efficiency and competitiveness.
While China is facing a challenging process of economic rebalancing, it is widely expected that carrying out meaningful market reforms, diversifying the economy toward consumption, innovation and entrepreneurship and setting out a strategy to sustain economic growth and improve people's livelihood will be the major themes in the plan.
Internationally, experts predict China will increasingly focus on the Belt and Road Initiative, the national strategy to revive the ancient land-based and maritime Silk Roads.
China's outbound direct investment exceeded $120 billion last year. The initiative will allow the country to further broaden its export market and absorb excess domestic capacity, they said.
They also see the next five years as crucial for China's financial industry as the country will continue to push domestic financial reforms.
Winning sectors
・ Information technology
・ High-end manufacturing
・ New-energy vehicles
・ Railway transport equipment
・ Biotechnology
・ Environmental protection
・ Modern agricultural machinery