Shanghai to shut plants near Disney site
Updated: 2015-09-15
( China Daily )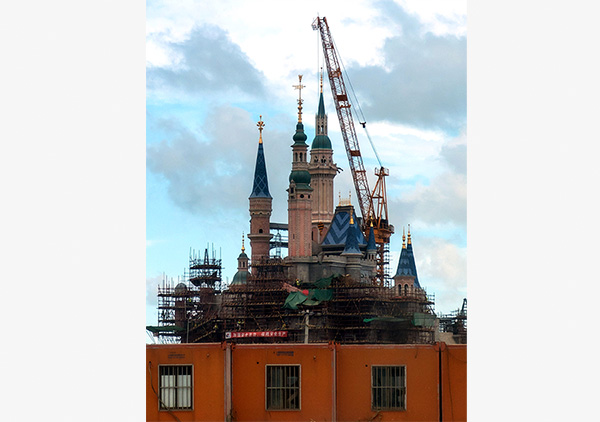 Construction work proceeds at the Shanghai Disneyland in August. The venue is expected to open next spring. [Photo provided to China Daily]
More than 150 enterprises near the Shanghai Disney Resort that pose a pollution threat have been ordered to close by the end of next year by city authorities.
Most of the 153 enterprises have high pollution risks, high energy consumption but low productivity in industries that include machining, metalware production, printing, plastics production and chemical engineering.
This is according to an announcement on the website of the Shanghai Commission of Economy and Information Technology.
"Seventy-nine enterprises will be shut down in the first half of 2016 and the rest will be closed by the end of next year in an effort to make the zone better serve the needs of Disneyland as well as the Shanghai International Tourism and Resorts Zone," the announcement stated.
Tourism products with agricultural features will be developed on 10 square kilometers of land in Zhoupu town in Pudong New Area, which is next to the Shanghai International Tourism and Resorts Zone.
The $5.5 billion Disney theme park, which is scheduled to open next spring and is Disney's first on the Chinese mainland, forms part of the resorts zone.
Shanghai Shengfeng, an oil paint manufacturer in Jiebang, a village in Zhoupu, is one of the enterprises ordered to close.
Qin Hong, an administrative worker at the company, said, "The factory may move to an industrial area in Fengxian district on the southern outskirts of Shanghai."
Pan Chunfeng, an information officer with the resorts zone's management committee, said the decision to close the enterprises is not just to protect Disneyland but is also part of the city's environmental protection campaign.
Economic experts said the Shanghai government is using the Disney project to speed up industrial restructuring and to promote the relocation of enterprises with pollution problems.
Lu Ming, a professor of economics at Shanghai Jiao Tong University, said, "When considering the plan to build the Disney resort, the Shanghai government must have analyzed how it would benefit various sectors."
Qigan, a village in Zhoupu, which borders the Disneyland resort to the north, has taken a lead in land reclamation. In 2009, an ecological farm with sightseeing, leisure and entertainment services was opened.
Hu Xingdou, an economics professor at the Beijing Institute of Technology, said reducing pollution is to some extent more meaningful than merely closing or relocating enterprises with pollution problems.