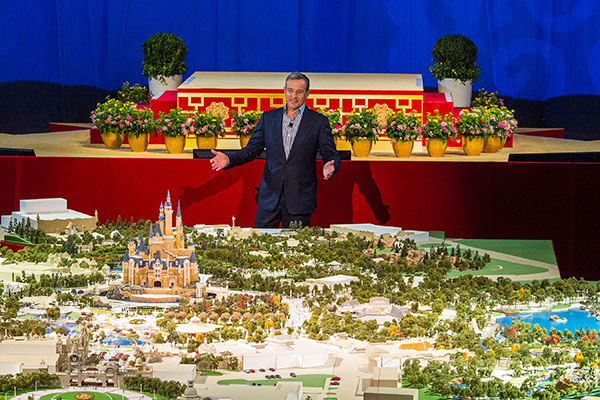 Disney Chairman and CEO Bob Iger unveils Shanghai Disneyland sandbox. [Photo/China Daily]
New amusement park expected to open next year, but still no indication of entry, ride prices
The Walt Disney Co on Wednesday unveiled details of its planned $5.5 billion theme park in Shanghai which it expects to open next year, with its top executive insisting "crowd management and safety" will be top priorities.
Robert Iger, Disney's chairman and chief executive, showed off a huge model of the resort at the Shanghai Expo Center on Wednesday, promising new attractions not found in its other resorts, calling the giant facility Disney's most technologically innovative park yet.
"We are building something truly special here in Shanghai that not only showcases the best of Disney's storytelling but also celebrates and incorporates China's incredibly rich heritage to create one-of-a-kind destination that will delight and entertain the people of China for generations to come."
Mounting interest among Chinese in the long-in-the-making resort has raised questions on whether the park and resort will be able to handle the huge crowds expected when it opens.
The chairman said: "We want the park to be fun and we also need it to be safe."
He said the company was an expert in crowd management, given its 60 years of managing millions of visitors to its parks and resorts globally.
In China, its latest ticketing technology will be employed. Visitors will be able to buy combined entry and transport tickets, and be carried right to the front gate of the park via subway.
The resort has also created a highly sophisticated mobile application that notifies visitors in advance of waiting times and other park information.
Featuring six themed lands, including Adventure Isle, Mickey Avenue and Tomorrowland, the resort is offering many features that are only available in Shanghai.
"And we designed Mickey Avenue using characters from many Disney films and stories over the years. I am sure they will all appeal to Chinese people.
"This park will have Disneyland at its heart, but will very much feel distinctly Chinese," said Iger.
Shanghai Disney Resort is a joint venture between Walt Disney (43 percent) and Shanghai Shendi Group (57 percent).
It consists of Shanghai Disneyland and two themed hotels, including the 420-room Shanghai Disneyland Hotel and the 800-room Toy Story Hotel.