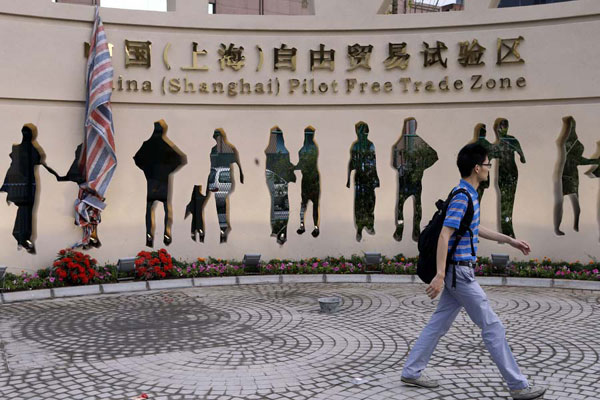 The name plate of the China (Shanghai) Pilot Free Trade Zone on a gate of the Waigaoqiao free trade zone in Shanghai. ZHAO YUN / FOR CHINA DAILY
Premier Li Keqiang pledged on Thursday during a meeting with a former senior United States official to continue market-oriented financial reforms and to expand reform trials.
In talks in Beijing with Henry Paulson, former US secretary of the treasury, Li said financial trials will be expanded in the China (Shanghai) Pilot Free Trade Zone and liberalization of the renminbi will press ahead.
There is no basis for continued depreciation of the renminbi, and reform of the currency's central parity rate quotation mechanism is in line with the changes brought by global market turbulence, the premier said.
Li said intervention measures by the central government during the recent stock market plunge helped to prevent systemic risks and stabilized the market.
The government has made continuous efforts to push forward financial reforms in recent months, ahead of the International Monetary Fund's decision next month on whether the renminbi can be granted reserve status in a special drawing rights basket.
On Wednesday, the government announced plans to allow qualified individuals to engage in overseas investment in the Shanghai free trade zone, a step closer to loosening capital account controls.
During his meeting with Li, Paulson said he is glad to see a stabilized financial market in China.
During a group interview with Paulson in Beijing on Thursday, the former US official said there is a great opportunity to invest in clean energy and environmental goods and services in China, and it is natural for the country's economy to slowdown as it matures.
He said he does not focus much on economic growth and targets, adding that whether it's 7 percent or 6 percent is not very meaningful.
It is important to get China on a sustainable path and ensure growth that is "environmentally responsible and economically sustainable", he said.
Paulson said China's growth has relied too much on government investment and exports, and needs more consumption, services and an emphasis on high-value-added products.
He said he thought it would be a big mistake for China to push growth higher through too much government investment, "because that's sowing the seeds for a problem down the road".
He suggested that China accelerate reform and further open the market to avoid risks facing the economy, place State-owned enterprises and private companies on a level playing field, and further open markets in the financial services, energy and telecommunication sectors.
Paulson set up the Paulson Institute in 2011-a nonpartisan body that promotes sustainable economic growth and a cleaner environment.