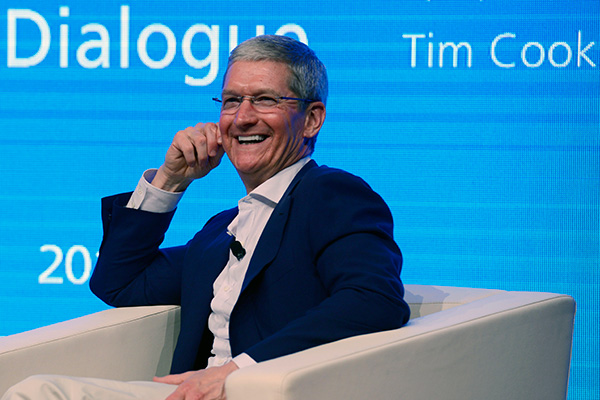 Tim Cook, chief executive of Apple Inc. [Photo/China Daily]
Apple unveils slew of clean energy programs with an eye on long-term gains in China
Apple Inc's Chief Executive Tim Cook is making his second visit to China in less than six months.
Paying tribute to historic landmarks, exchanging pleasantries with Chinese developers and announcing clean-energy programs, the head of the United States-based tech giant is showing the country how much he needs long-term business growth in the world's largest smartphone market, especially when demand has started to shrink.
Cook's China trip kicked off on Wednesday, with the 64-year-old climbing the Great Wall near Beijing amid smog. He then talked to local application developers and was particularly interested in an education app that introduces wood joints used in traditional Chinese structures.
Following the visits, Apple then announced on Thursday it is "significantly expanding" its clean-energy investments in China.
"The new programs are aimed at reducing the carbon footprint of our manufacturing partners in China," the company said in a statement. The programs may help reduce more than 20 million metric tons of greenhouse gas emissions in the country until 2020, equivalent to taking nearly 4 million passenger vehicles off the road for one year, according to the company.
Apple said it planned to build more than 200 megawatts of solar projects in the country, but did not give a detailed timetable.
China is home to Apple's major supply chain manufacturers. Electronics hardware building discharges large amount of greenhouse gases.
The company will also partner with suppliers in China to install more than two gigawatts of new clean energy in the coming years.
Earlier this week, Cook signed up to participate in a CEO council on Chinese urbanization and sustainability run by the Paulson Institute, an organization focusing on China-US environmental protection and economic ties.
James Yan, a smartphone analyst at research firm International Data Corporation, said a greener Apple may help the company gain more traction in China although the investment will not translate into product sales or cost reductions in the short run.
China is the most important overseas smartphone market for Apple. The company is about to open its 25th retail store in China on Saturday. Its iPhones and Apple Watches are already on display at the new store, located in Dalian, Liaoning province.
"Apple thinks it has still got a shot in smaller cities. It is speeding its pace in reaching customers in these cities," Yan said.
However, it will be extremely difficult for Apple to maintain rapid growth in China like it did in the Steve Jobs era, he said.