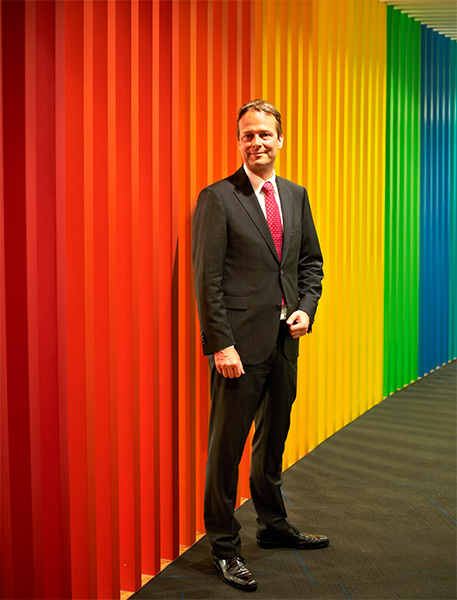 Ton Buchner, AkzoNobel CEO. [Photo provided to China Daily] 
More people will use environmentally friendly paints, says AkzoNobel chief
Dutch paint and chemicals company AkzoNobel NV believes it can play a big role in making the living environment exciting and vibrant, even as cities and nations push ahead with their urbanization plans.
Ton Buchner, chief executive officer and chairman of the board of management and the executive committee at AkzoNobel, which is the world's largest coatings company by sales and owns the Dulux and International brands, says that cities should be more than just a pile of stones.
"People should be proud of their cities and enjoy living there, and we believe that we can help in that by adding color to exteriors and interiors," said the 50-year-old Buchner from the Netherlands.
AkzoNobel is having an important influence on the process of urban transformation, said Buchner, adding that this involves doing more with fewer products, cutting building emissions and enhancing sustainability.
Buchner remains unfazed about the economic slowdown in China. "We are confident about China's long-term economic development and the bold moves taken by the policymakers to foster economic growth, including massive urbanization plans and steps to boost domestic consumption."
The chief executive said he believes that there will be more and more people choosing paints with exceptional environment-friendly features and there will also be an increasing need for colors as a result of the higher living standards.
Buchner spoke to China Daily recently about the company's business growth and strategies at length. Following are edited excerpts from the interview:
Please share with us AkzoNobel's Human Cities Initiative. What's an ideal urban community in your view?