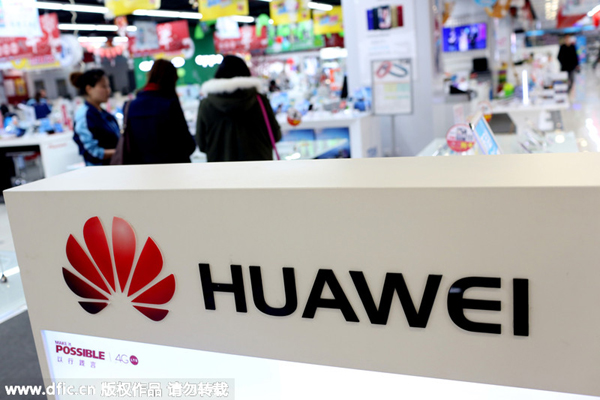 A counter of Huawei is seen at an electronic products market in Shanghai, Feb 17, 2015. [Photo/IC]
SHENZHEN -- China's leading telecommunications company, Huawei Technologies, reported on Friday that its profits leapt 33 percent last year, driven by smartphone sales.
The private company said in its annual report that its net profits rose to 36.9 billion yuan ($6.13 billion) in 2015 and its global revenue grew to 395 billion yuan, up 37 percent year on year.
The growth was fueled by striking expansion of consumer business, mainly smartphone sales. Consumer business revenue hit 129.1 billion yuan last year, up 73 percent.
The success was down to the brand's increasing clout, said Huawei's rotating CEO Guo Ping. The company's terminal products, including smartphones, have been sold in 170 countries and regions.
In addition, thanks to wider global use of fourth-generation mobile services, sales of Huawei's network gear increased 21 percent to 232.3 billion yuan.
The company's revenue in overseas markets accounted for 58 percent of the total, said its CFO Meng Wanzhou.
Huawei spent 59.6 billion yuan on research and development (R&D) in 2015. It has invested more than 240 billion yuan in R&D over the past decade.