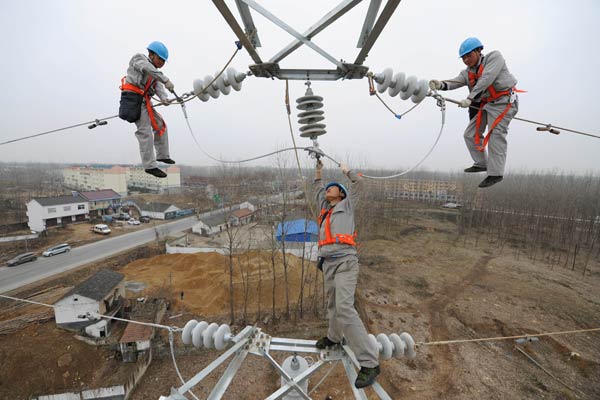 Workers fasten electric wires in a rural area in Chuzhou, Anhui province. [Song Weixing/For China Daily]
China is mulling the first batch of pilot State-owned enterprises (SOEs) for mixed ownership reforms, and those in the country's northeast region are expected to be the highest on the agenda, Shanghai Securities News reported on Tuesday.
The move, part of the blueprint that's taking shape for nationwide SOE reforms, will be carried out mainly in such sectors as electricity generation, petroleum, railway, civil aviation, telecommunication and defense this year, the newspaper said, citing officials.
Launching the projects in the northeast is critical to push forward local SOE reforms, said the National Development and Reform Commission. "State-owned businesses take a lion's share of the northeast economy.... the region's current economic difficulty is largely due to inadequate institutional reforms."
Northeast areas that include Heilongjiang, Liaoning, and Jilin provinces, which used to be the country's industrial powerhouse, have been suffering headwinds from economic slowdown amid transformation. And the central government has rolled out a slew of measures to boost the ailing growth.
"A major solution to rejuvenating the northeast is to beef up SOE reforms and get out of the single-structured economic predicament," said Liu Xiaoguang with the National Academy of Development and Strategy in Renmin University of China.
The reform should ease control over market entry and create a level-playing field for both State-owned and private businesses, added Liu.
Mixed ownership reforms need to be tailored accordingly due to different conditions, and allow the market play its full role, said the officials from the NDRC.