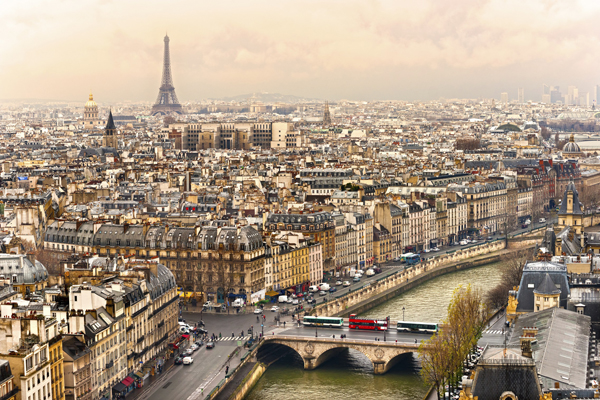 A view of Paris, France [Photo provided to chinadaily.com.cn]
The number of Chinese tourists visiting Paris has surged in recent years as a result of simplified visa procedures and strong promotion of Sino-French tourism agencies.The number of Chinese visitors didn't drop despite the November 2015 terrorist attacks in Paris.
This year's first quarter saw the number of Chinese visitors who traveled to France jump to 6.5 percent year-on-year. In 2015, about 1.2 million Chinese tourists visited Paris, surging 49 percent over the previous year.
Charles De Gaulle Airport in Paris, the second largest airport in Europe, annually receives 2.1 million Chinese tourists who travel between China and France. But differences in language and culture, and information asymmetry, have caused many travel inconveniences for Chinese tourists.
Chinese travel information website Qyer.com recently launched the first Chinese version travel guidebook for Paris, and they are available at the arrival halls of Paris airports, and several other well-known tourist attractions, including Palace of Versailles, Disneyland and French department store Galeries Lafayette.
The brochure aims to provide free visual information for Chinese travelers after they land in Paris. The guidebook summarizes essential information of restaurants, accommodation, traveling, and entertainment and shopping, it also includes some coupons that can be used at airport duty free stores.
Cai Jinghui, chief executive of Qyer.com, said,"Qyer.com launched travel guides in Melbourne, Tasmania and Boston before, and they often run out of stock. We believe that it will be quite useful and popular for Chinese tourists in Paris."
According to Aéroports de Paris, the number of Chinese tourists who visited Paris takes only 2 percent of the total tourists, but the average spending for Chinese at the airport reaches about 100 euros per person, far more than the 15 euros of those tourists who come from other countries.
Laure Baume, executive director of Customer Division at Aéroports de Paris, said, "Charles De Gaulle Airport has been increasing its related Chinese services. The airport equipped 150 Chinese shopping guides at the stores, and it had Chinese guides to help visitors with tax refund procedures."
Meanwhile, Charles De Gaulle Airport added Chinese language as its third official language after English and French on airport signs last year. The airport will also broadcast flight information in Chinese or Cantonese for those flights come and to China.