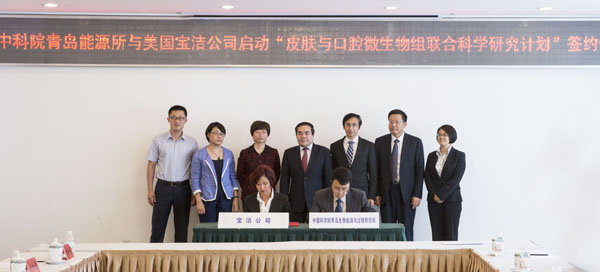 A high-tech program between QIBEBT and Procter & Gamble was launched on June 17 in Qingdao, East China's Shandong province. [Photo provided to chinadaily.com.cn]
A high-tech program focusing on microbiome-based research, one of the cutting-edge research areas in microbiological and genome science, was launched on June 17 in Qingdao, East China's Shandong province.
The program, named "Initiative in skin and oral microbiome", or "iMicroCare", was jointly launched by Qingdao Institute of Bioenergy and Bioprocess Technology (QIBEBT) of the Chinese Academy of Sciences, one of China's primary national research institutions for renewable energy and green materials, and Procter & Gamble(P&G), a multinational consumer goods company in the United States.
Under this program, both sides will contribute to fundamental research on human skin and oral science in a bid to find a scientific solution via microorganisms to enhance personal health maintenance, said Xu Jian, Director of Single-Cell Center at QIBEBT.
More high-end products on oral and skin care, making use of big data technology, will be developed and an industry of precision personal care is expected to boom in the future, Xu added.
QIBEBT has been in partnership with P&G for more than six years, with much significant progress achieved under this joint effort such as the development of microbial index of gingivitis for prediction of gum health status.
Angelique Boyer, Vice President of Global Life Science at P&G, said the new cooperation is promising, adding that P&G would further tap the market potential in China with the rising awareness of healthcare in China.
Peng Hui, deputy director-general of QIBEBT, said that the cooperation could serve as an accelerator for the transfer of scientific and technological achievements, which is facilitated by the strong research capacity of QIBEBT and powerful market reach of P&G.
Before the program's launching ceremony, Qingdao vice mayor Wang Guangzheng met the delegation led by Boyer.
Wang said Qingdao welcomes more talents and entrepreneurs around the world to seek scientific cooperation and the city municipal government would provide necessary support and services.