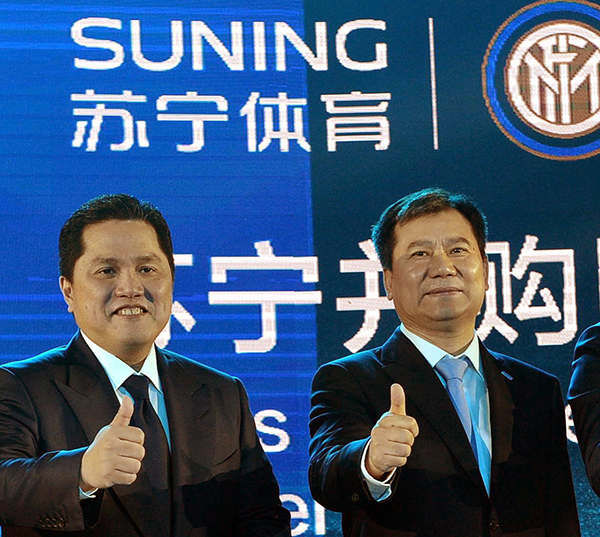 Suning Commerce Group's Chairman Zhang Jindong (right) and Inter Milan President Erick Thohir pose for pictures during a news conference in Nanjing, Jiangsu Province. [Liu Jianmin/For China Daily]
Interventionist approach or passive managers is seen as key question
Chinese investors are beginning a determined drive into European soccer, investing both at the club level and in the sport's infrastructure. While welcomed by many, the surge has raised serious questions about long-term intentions.
Shanghai Jinxin Investment Fund, a partnership between Beijing Baofeng Technology Co Ltd and Chinese financial services company Everbright Securities Co Ltd, announced in May an agreement to acquire a 65-percent stake in Italian-owned MP & Silva Ltd, the world's number one soccer rights agency, for around $1 billion. MP & Silva distributes sports programming to more than 200 broadcasters in 215 countries, including English Premier League and Formula One motor racing.
In recent weeks Chinese entities have either acquired soccer clubs outright, including England's Aston Villa, or taken controlling stakes in teams, including Inter Milan and Spain's Espanyol. Chinese companies are also becoming sponsors of FIFA, the governing body of world soccer.
MP & Silva co-founder Riccardo Silva said that the deal with Shanghai Jinxin was the "perfect fit" in terms of finance and innovation, given Everbright's status as the second-largest financial group in China, and technology and media company Baofeng Technology's progress in bringing virtual reality into broadcasting and developing an internet television platform.
Feng Xin, CEO of Baofeng Technology, said that it was the "perfect time" to enter the partnership as Chinese GDP per capita continues to climb and an increasing number of Chinese people have money to spend on entertainment.
There are pitfalls, however.
Wang Yunfan, CEO of Morning Whistle Group, a one-stop service provider in overseas mergers and acquisitions for Chinese capital, warned Chinese investors to exercise great care in acquiring soccer assets. "Post-merger integration challenges are faced by all outbound Chinese acquisitions, but this becomes a particularly significant challenge in cultural industries, such as soccer, because companies in these industries have a high proportion of intangible assets compared to tangible assets."
The sustained investment also has some fans worried about what Chinese money means for the future of soccer in Europe. Examples of foreign owners meddling in transfers, tactical and managerial decisions and even club traditions have frequently made headlines in the United Kingdom over the past decade
For example, Ledman Optoelectronic Co Ltd, a Shenzhen-based LED light manufacturer that has recently expanded into sports management, sparked an uproar when it, as part of an advertising deal in Portugal, stipulated that Chinese players must feature in starting lineups. The company quickly back-tracked, but it opened up the question of whether some Chinese companies plan on adopting an interventionist approach or will act purely as financial backers.
Lin Feng, CEO of DealGlobe, the platform that facilitated the deal between Baofeng Technology and MP & Silva, described Chinese buyers as "passive investors". "They are not really going to be actively involved in the day-to-day running of clubs, and I think that's important. The Chinese invest money and resources rather than actually managing the club," he said.
"Chinese buyers are clear that they don't know the soccer market in the UK, for example, that well-many of them don't speak English, so for them to manage a company in a very active role would be very difficult. For all the Chinese buyers, their view from a financial perspective is to back the club and in the meantime to add very strong value from China and from Asia. They will let the management team operate clubs in Europe and the UK," Lin said.
Cecily Liu contributed to this story.