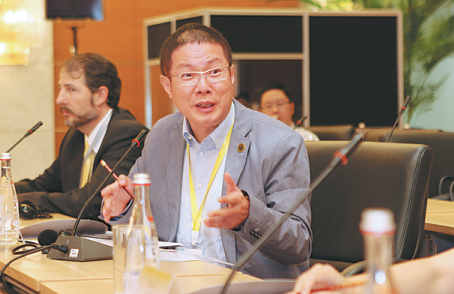 CEOs from all sectors in China discuss on workplace health culture at the conferences organized annually by CEO Roundtable on Cancer-China. CHINA DAILY
In the US the organization develops and implements initiatives that reduce the risk of cancers, enables early diagnosis and facilitates better access to the best available treatments and the discovery of promising diagnostic tools and anti-cancer therapies.
The Chinese affiliate also focuses on anti-cancer activities, because cancer is the country's leading cause of death, and as much as 80 percent of cases in China are reckoned to be caused by unhealthy behavior such as smoking and poor diet. More than half of cancer-caused deaths can be avoided by adopting a healthy lifestyle, government statistics show.
Yet the incidence of many chronic diseases, including cardiovascular ones and diabetes, is also rising in China, so chronic disease prevention and health promotion are included in the affiliate's registered functions approved by Chinese health authorities, Wang says.
Since 2013 the CEO Roundtable on Cancer has invited companies to forums at which they can learn about the culture of workplace wellness.
One initiative the Chinese affiliate promotes is the CEO Cancer Golden Standard-China, a workplace wellness accreditation program. An employer can become a gold standard member by establishing programs of concrete actions in five key areas: prevention, screening, cancer clinical trials, quality treatment and survivorship, and health education and health promotion. No membership fees need to be paid.
The program was initiated in the US 10 years ago and in China two years ago, each program tailored to local circumstances. The Chinese model includes air pollution protection requirements and smoking cessation drugs approved by Chinese health authorities. In China, companies and organizations wanting accreditation are required to submit reliable evidence of their bona fides and their efforts to comply with the standards.
Apart from the accreditation, the center also provides health education and other services, such as consulting and training, not only to companies and other organizations but to communities as well.