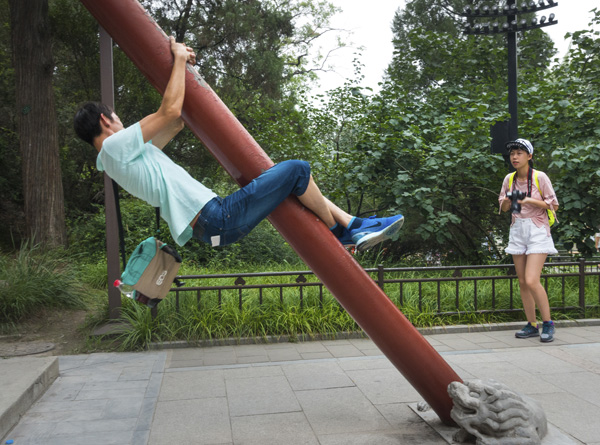 Tourists exhibiting uncivilized behavior in Beijing may be banned from some attractions. [Provided to China Daily]
Tourists who have previously exhibited uncivilized behavior might be shut out of some attractions in Beijing, according to a new draft regulation under discussion by the municipal legislature.
According to the draft Beijing tourism regulation, the tourism authority should establish a system that can keep a record of uncivilized behavior, and travel agencies and scenic spots can refuse to provide service for those on the blacklist.
The rule-breaking behaviors include disturbing orderly transportation, ruining the environment, damaging public facilities, damaging cultural relics or historic sites, and other behaviors that severely harm tourism, the draft said.
In order to better regulate the practice of renting out one's own house as a hostel, the draft stipulates that in urban areas owners are limited to renting out five rooms, while the upper limit is 15 in rural areas.
If the scale of the business is larger than stipulated, the business will be considered a regular hotel, the draft said.
According to Cheng Xiaojun, a member of the standing committee of the municipal people's congress, some legislators suggested that the practice of guides and interpreters at world heritage sites in Beijing should be regulated.
Beijing has six sites on UNESCO's world heritage list - the Forbidden City, Temple of Heaven, Summer Palace, Badaling Great Wall, the Ming Tombs and the Peking Man Relics Site at Zhoukoudian.
Cheng said services at such sites should be delivered at a high professional standard. As such, the guides should receive training and get licenses from the site.
Some legislators also recommended that more public transportation routes to popular tourist destinations in the suburbs should be created.