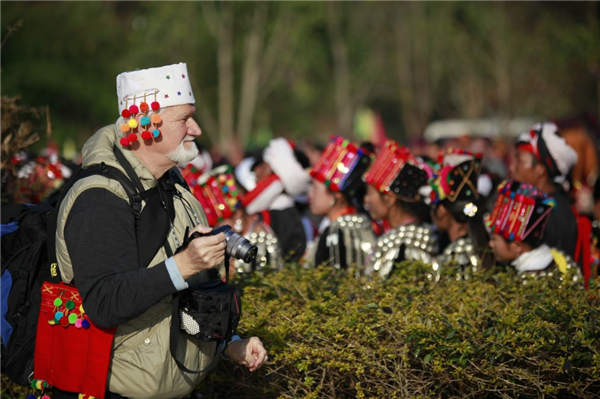 Photo taken in November, 2010 shows Dr. Corrado Politi attending the Long Street Banquet in Honghe prefecture in Yunnan province. [Photo provided to China.org.cn]
You might not agree, but this man from Italy knows Chinese tourism better than you or I.
Dr. Corrado Politi, one of the most energetic individuals I have met, had already completed a breakfast talk at the Embassy of Italy in Beijing before meeting with me.
As the executive director of the European Center of Berlin and a European Training Foundation directorate member, Dr. Politi has roughly 15 years working on marketing promotion and tourism cooperation between Asian and European countries. He has also been an international advisor for China Tourism Academy since 2008.
Behind the story with Yunnan
Dr. Politi first visited Yunnan in 2010 and fell in love with the place. He even filled his suitcase with tourism pamphlets before leaving. He returned numerous times as an international marketing advisor for the Yunnan Provincial Tourism Administration, attended the opening celebrating for the first intercontinental airline from Kunming to Paris in 2014, and went to Yunnan Day at the Milan Expo in 2015.
"China is a country with diversity, and Yunnan is a concentration of that diversity," he said. The various landscapes, bearing similarities to his hometown in Italy, attracted him. As a gastronome, he expressed his appreciation of Yunnan cuisine, its many means of preparation and diversity of ingredients. He particularly enjoys sitting at a table and experiencing different dishes with other people.