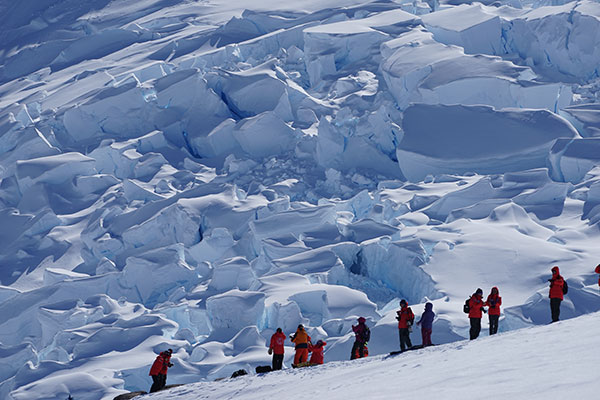 Chinese tourists reach the South Pole during a group trip.[Photo by Liu Yunmin/Liu Debin/Xu Lin/China Daily]
A recent report counters stereotypes about outbound Chinese tourists, Xu Lin looks at the findings.
They just shop. They spend indiscriminately. They cause trouble.
Independent travelers are usurping group tours.
A recent Oliver Wyman survey seems to dispel these stereotypes about outbound Chinese travelers.
The New York-based global-management consulting firm's The Changing Face of the Chinese Traveler based its results on surveys of about 1,750 Chinese who've traveled abroad in the past year.
About 46 percent of respondents are from first-tier cities, and 42 percent are from second-tier cities. Their average age is a little over 30, and their average household income is about 17,000 yuan ($2,560) a month.
Fewer than 15 percent name retail as their main motivation for going overseas.
About 63 percent instead listed sightseeing.