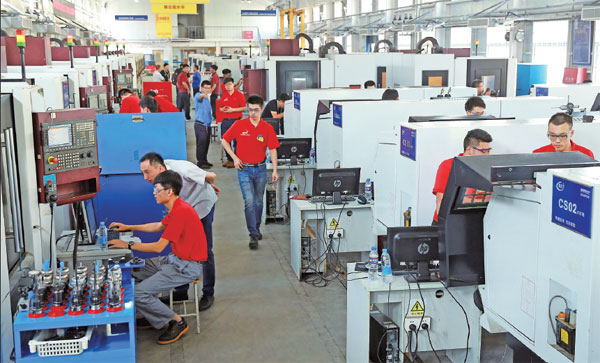 Vocational school students participate in a skills competition in Beijing on Wednesday. The 10 winning competitors will train for the national CNC turning and CNC milling teams that will compete in next year's WorldSkills Competition, a biennial international event known as "the Olympic Games of skill". Photos By Zou Hong / China Daily
Shortage of skilled workers makes vocational education a more attractive option for young people, as Su Zhou reports.
After graduating from junior middle school, Wang Shuai wandered around the Beijing suburbs that summer wondering what to do next. He loved to take things apart and put them back together when he was kid, and fate lead him to Beijing Industrial Technician College, where he "fell in love" with a CNC milling machine.
And Wang's love affair grew when he learned the college had been chosen to be the national training center for CNC turning and milling for the WorldSkills Competition, the biennial international flagship event for vocational education and skills excellence.
The Beijing boy, who was born in 1994, practiced hard and his efforts were rewarded when he was chosen to represent China in the 43rd WorldSkills Competition held in So Paulo, Brazil, in 2015.

However, the event proved heartbreaking for Wang, who came fourth in CNC milling.
"It's something I regret," said Wang, who is now one of the coaches at the college. But, looking on the bright side, he said he hopes his students will win medals.
On Saturday and Sunday, more than 30 vocational school students from the country gathered in Beijing Industrial Technician College to compete for 10 training places for the national CNC turning and CNC milling teams for next year's WorldSkills Competition. After high intensity training at the college, two will be selected to represent China and compete for medals in Abu Dhabi.
WorldSkills is known as "the Olympic Games of skill" and most of the events only allow competitors under the age of 22 to participate, although a few events extend the age limit to 24-year-olds. Started in 1950, it aims to raise the profile and recognition of vocational skills, and show how important such skills are for a country's economic growth.
The Chinese government hopes that participating in the competition will raise the profile of traditional trades and multi-skilled technology careers, as China has an acute shortage of skilled workers in these fields.
China first participated in the WorldSkills Competition in 2011, but competed in only six of the events. In 2015, it participated in 29 events, winning its first gold medals in manufacturing, welding, hairdressing, car painting and milling. Next year, it plans to compete in 45 of the 50 events.
Zhang Lixin, head of the Professional Capacity Building Department under the Ministry of Human Resources and Social Security, said there is a good possibility that the Chinese team will win more gold medals in Abu Dhabi.
But he said, "In terms of events such as carpentry, plumbing and heating, we still need more improvement."
Changing status
Talking about the changing status of such skills in China, Zhang said that before it launched reform and opening-up, China was a planned economy and blue-collar workers had a higher status in society than farmers, business people and academics.
He said at that time there were eight skill levels for blue-collar workers. The treatment of a skilled worker of the highest level was equal to that of a deputy head of a State-owned factory.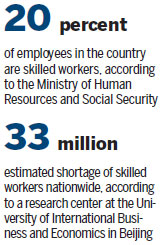 However, after the reform and opening-up policy was launched in 1978, the status of manual workers declined, as society began to value university education and entrepreneurship more as it sought to establish a market economy. White-collar jobs became more attractive to young people than blue-collar jobs.
This change was accelerated with the implementation of education reform in 1990s, when the government began to dramatically expand university enrollment. Many families began to treat vocational schools and colleges as the last resort for their children.
"At this time the best career path for young people was considered elite education and becoming a government official," said Zhang. "Besides, the wage level of skilled workers in the manufacturing industry was comparatively low, and social status is defined by wage level."
Song Fangzhi, professor of Beihang University, who has been the leader of China's CNC turning and milling teams for the WorldSkills Competition from the outset, said skilled manual work also fell out of favor because such skills require time and effort to master.
"Many parents don't want their children to endure the hardship," he said.
Wang Saichao, a coach at Beijing Industrial Technician College, said when he was a student, he practiced CNC turning more than 13 hours a day, and his arms would become swollen.
However, the transformation and upgrading of the Chinese economy has resulted in a growing demand for skilled workers. For example, one survey by the Ministry of Human Resources and Social Security found that Shenyang Machine Group needed at least 100 applied technology engineers during the enterprises' strategic transition, but it had less than 50 qualified workers.
According to a research center on education and the open economy at the University of International Business and Economics, the shortage of skilled workers in the country may be as much as 33 million.
Skilled workers account for 20 percent of the total number of employees in the country, according to the Ministry of Human Resources and Social Security, but only five percent of these workers are considered highly skilled.
Song offered the shoe industry in Wenzhou, Zhejiang province, as an analogy for the situation China is facing as it pursues economic transformation and upgrading.
"At first the shoes produced in Wenzhou were copies and of poor quality. Then, although the shoes were still copies, they were of good quality. Now the shoe industry in Wenzhou has many internationally famous brands of its own."
"Before, manufacturing in China emphasized quantity," he added. "But we are now focusing on quality, innovation and being environmentally friendly."
Zhang of the Professional Capacity Building Department of the Ministry of Human Resources and Social Security said that as the country is making efforts to enhance its skills training at vocational schools and raise the wages for skilled workers more young people will be attracted to these professions.
"For example, we have urged vocational schools to get rid of their reliance on textbooks and focus on practical training. In this way, students can acquire very high levels of skill before they graduate. Outstanding students will receive their skill certificate," said Zhang. "This is something new. Before, people could only gain the certificate by working."
But Zhang cautioned it would take time for society to truly appreciate skilled workers again.
However, Wang Shuai said his parents appreciated his choice many years ago.
"They think it is great that I have a skill," said Wang. "As they think I don't have to worry about losing a job."
Contact the writer at suzhou@chinadaily.com.cn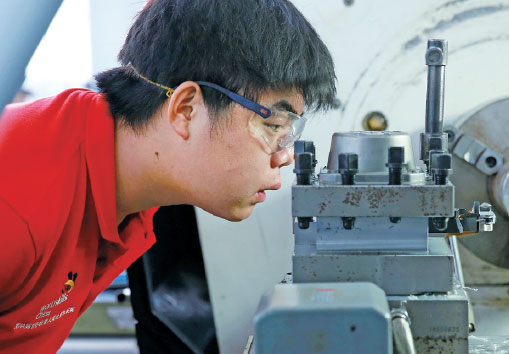 A contestant competes in the CNC turning national competition held in Beijing on Wednesday.