In visit to alma mater, Xi calls for equality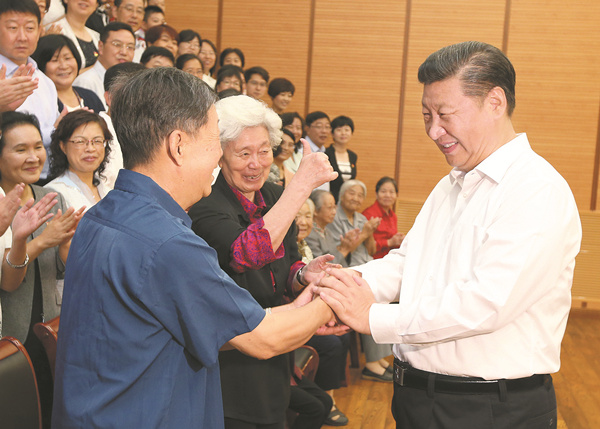 President Xi Jinping meets teachers at his alma mater, Bayi School in Beijing, on Friday ahead of Teacher's Day on Saturday. He took the opportunity to extend his appreciation to the country's educators for their hard work. Yao Dawei / Xinhua
President Xi Jinping shrugged off his official title and enjoyed school time again when he visited his alma mater on Friday ahead of Teacher's Day on Saturday.
When Shen Jun, the head of Bayi School, where Xi spent his primary and junior high school years, said, "Welcome the president back to school", Xi said, "There is no president in school, but only teachers and students".
Xi emphasized the importance of basic education and equal access to education.
"Education equality is the basis of social equality," he said. "We must ensure education equality to enhance social equality."
Xi said measures must be taken to narrow the gap in educational resources and quality between rural and urban areas, with special aid given to poverty-stricken places and areas mainly populated by ethnic groups.
Stopping at the soccer field where students were training, Xi, a soccer fan, recalled the old days when he played on the same field, which is grass now but was dirt and mud 50 years ago.
He then had a conversation with teachers, including Chen Qiuying, who taught him Chinese back then.
Chen recalled that Xi seemed more mature than his classmates then. "For example, he always gave way to others first when they entered the classroom. He didn't speak but gestured. It was uncommon among teenagers."
In 1969, Xi, then 15, went to Shaanxi province, where he spent seven years as a rural laborer. He then studied at Beijing's Tsinghua University from 1975 to 1979, majoring in chemical engineering.
Xi has often visited Chen since. In the 1990s, Xi, who was then the deputy Party chief of Fujian province, and his wife, Peng Liyuan, the famous singer, once invited Chen to sing karaoke when she was on a business trip in Fujian, Chen said.