Playing the waiting game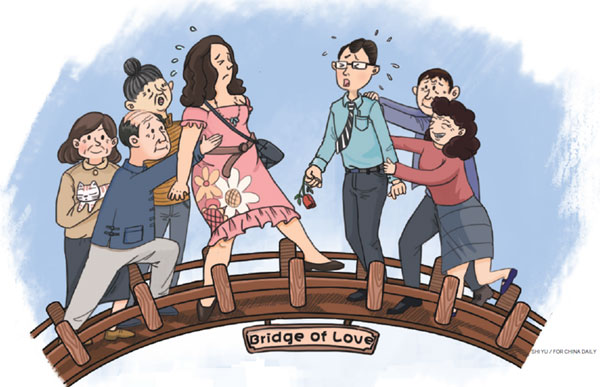 As Singles Day rolls around once again, some young people are employing extreme measures to resist family pressure to marry in haste. Zhang Yu reports from Shijiazhuang.
Having seen the pressures Chinese parents bring to bear on their unmarried offspring, Jeremiah Christie said falling in love with a Chinese woman could become an unnerving experience.
The 30-year-old United States national, who has lived and worked in China for four years, has had relationships with local women but none lasted long. Being unmarried at his age means he has been relegated to the category of a "leftover" in the eyes of many Chinese.

"People are surprised when I tell them I'm not married and don't have any kids," Christie said, adding that the surprise expressed made him feel shy.
As an English teacher at Hebei Normal University in Shijiazhuang, capital of Hebei - the province that effectively surrounds Beijing - Christie started to become aware of the pressure applied by the "normally, you should not be single by now" philosophy when he turned 27.
That was because he had reached an age when most people in China are either married or are in the process of getting hitched.
A recent report published by the Ministry of Civil Affairs showed that 39.4 percent of the couples who married last year were aged between 25 and 29.
Christie said he felt that 27 was an appropriate age for marriage - not just in China, but in most places around the world. However, he was incredulous and saddened that young single people in China come under extreme pressure from their parents if they fail to marry at the "appropriate" age.
Parental pressure
Eighty-six percent of single people ages 25 to 35 face parental pressures to marry as quickly as possible, according to a report released by a health development center run by the China Working Committee for the Care of the Next Generation earlier this year.
These people have usually been educated to a high level and work in a different city to their parents. Every time the parents call, they ask questions their children have come to dread, such as "have you found a boyfriend/girlfriend?" and "when do you plan to marry?"
It's easy for the children to dodge questions over the phone, but there's no way of avoiding the inevitable queries when they visit their parents during the holidays.
Moreover, parents often make full use of the holidays to arrange as many xiangqin - blind dates - for their children as possible.
Blind dates
Zhang Cui was forced to go on five blind dates during the Dragon Boat Festival, a three-day holiday in June.
The 28-year-old works in Beijing, while her parents live in Dongquancheng village in Shijiazhuang.
"My single status at the age of 28 is hard for my parents to bear," said Zhang, adding that most people her age who still live in the village have been married for at least two years, and many have already started their own families.
"In their eyes, I'm already a leftover woman who will find it hard to meet someone to marry," she said, referring to her parents. "But the dates they arranged were no good; the men were usually unsuitable and for me the success rate was zero."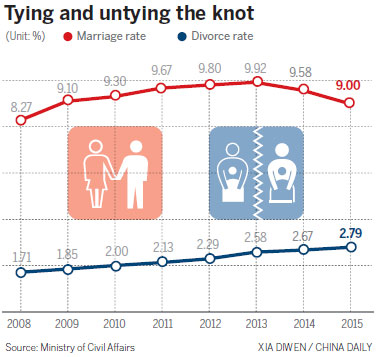 The pressure can become so intense that some young single people, driven to despair by the endless nagging and frequent xiangqin, will try every means to avoid phone calls from their parents or try to avoid returning home, even during public holidays which are usually devoted to family reunions.
Some even "rent" partners - total strangers - to go home with them during Spring Festival or the Mid-autumn Festival, just to assuage their parents and relatives.
Zhang refuses to rent a boyfriend, calling the idea "absurd". Instead, she opts to travel for the duration of the holidays: "It's not that I don't want to find a life partner, I'm just waiting for the right person."
She said she has learned from the experience of her older sister, who rushed into marriage with a man her parents thought would make a suitable match.
The union ended after just a year, when Zhang's sister found herself in an intolerable situation because of frequent arguments with her husband.
Despite the failure of the marriage, Zhang's parents still believe that it is better to marry at the perceived "correct time" than to be left out.
Even though Zhang finds it hard to disobey her parents, she refuses to concede to their wishes because she doesn't want to become a potential divorcee.
In the past decade, marital breakdown has become more prevalent in China. Last year, more than 3.8 million couples divorced, a rise of 5.6 percent from the previous year, while the number that married fell by 6.3 percent to about 12 million, according to the Ministry of Civil Affairs.
Song Qingjia, a psychologist who has worked extensively in Beijing and Hebei, said 30 percent of his customers consult him about marital problems, 10 percent of which are caused by rushed marriages.