National park to protect tigers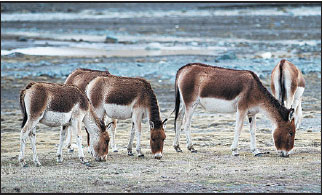 Wild asses graze in Hoh Xil in Qinghai province. The area is in Sanjiangyuan National Park, where the headwaters of the Yangtze, Yellow and Lancang rivers are located. The park, the first in a trial program, has been joined by a second planned park in Northeast China.Wu Gang/ Xinhua
The area in Northeast China is being added to a pilot program to better manage the nation's wild resources
An area on the border of Heilongjiang and Jilin provinces will be the second addition to a trial national park program and will focus on protecting wild Siberian tigers and leopards, according to government officials.
The new addition has been approved by the National Development and Reform Commission, the top economic planner.
The trial program is intended to streamline the management of scenic spots and reduce the reliance on raising funds through commercial activities, environmental groups said on Wednesday.
The new addition comes after the first entry in the program, Sanjiangyuan National Park, was approved in December 2015. Sanjiangyuan park includes the headwaters of the Yangtze, Yellow and Lancang rivers in Qinghai province.
The second national park plan awaits review and approval from the Party's Leading Group on Overall Reform, according to Xu Shaoshi, director of the NDRC.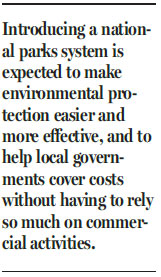 The national park trial program will run until 2017, when officials will evaluate its effectiveness. If deemed successful, additional pilot parks may be approved in other provinces by 2020. Nine provincial-level regions have been picked for projects over three years: Beijing, and Jilin, Heilongjiang, Zhejiang, Fujian, Hubei, Hunan, Yunnan and Qinghai provinces.
Experts said introducing a national parks system is expected to make environmental protection easier and more effective, and to help local governments cover costs without having to rely so much on commercial activities in the parks.
China has 2,740 natural reserves, occupying a total 1.47 million square kilometers, aiming to protect wildlife, forestry, grasslands and other valuable environment elements, the Ministry of Environmental Protection said.
However, Fan Zhiyong, a senior researcher with the World Wildlife Fund, said some reserve officials failed to protect the environment, and exploited resources instead of protecting them.
Peng Kui, a researcher at the Global Environmental Institute, an NGO in Beijing, said: "The management of natural reserves now involves many government departments. Land ownership in a reserve may be handled by over three parties like ministries, other agencies of the central government and rural collectives, making management a mess."
The central government won't allocate funds for the parks during the trial, so the provinces will have to pick up the costs. But Peng said State funds should go to support their management after the pilot, "so the management commission will not worry about making money from tourism, resources exploitation or other commercial activities, so it could protect the environment better than the existing reserves".
The provincial governments also must figure out what to do about residents living in the park areas, in a way that protects the environment and people's livelihoods as well.
"The governments need to solve the problems in management, funding and public participation, which is not an easy job, but urgently needed and necessary for environmental protection," Fan said.