Efforts to rescue boy from well ongoing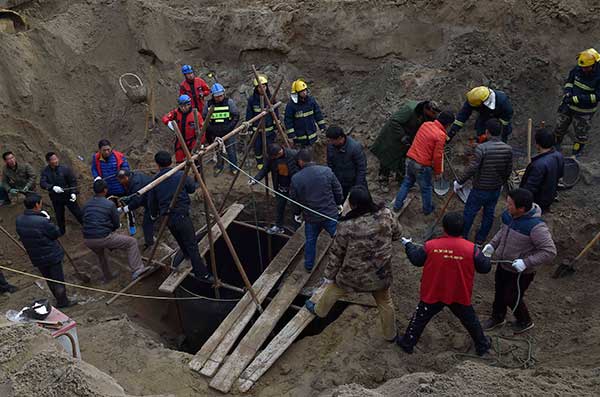 Rescue efforts to save a 6-year-old boy who fell into a dry well in Baoding, Hebei province, continues on Wednesday.[Huo Yan'en/For China Daily]
By Wednesday night, there were still no signs of a boy who fell into a dry well in Baoding, Hebei province, on Sunday morning, despite rescue efforts, authorities said.
"It is hard to predict how long the rescue operation will take due to complex situations underground. The deeper we dig, the more difficulties we encounter," Pang Zhi, head of Baoding Blue Sky Rescue, said during a news conference on Wednesday.
The 6-year-old boy fell into the 40-meter-deep well by accident when playing with his older sister on farmland in Zhongmengchang village in Lixian county.
The boy's father was working on farmland nearby when the incident occurred.
More than 500 rescue workers have participated in the search operation, which has involved excavating the land around the well using more than 140 excavators and other vehicles.
Oxygen has also been sent into the well, said Wang Xiaodong, one of the rescue workers at the site.
The well, about 35 centimeters wide, was too small for rescue workers to enter, so the only option was to dig the land around it.
According to Luo Yun, a professor at China University of Geosciences Faculty of Engineering, said that digging the land around the well requires a huge amount of work, with every meter taking about two hours to dig.
Rescue workers said that more than 200,000 cubic meters of land has been excavated.
In addition, the land around the well is sandy soil, which poses a risk of the land collapsing during digging.
Luo Yun said more professional rescue teams and improved tools for well rescue are needed in China.
The boy's grandfather, surnamed Li, said the well was used for irrigation and had been abandoned for five years.
"It was not filled and there was no cover on it or warning sign beside it when the accident happened," Li was quoted as saying by Beijing News.
Beijing News said they had found many abandoned wells like this in the area.
Villagers said they remove nozzles on the top of dry wells and install them on new ones, because a nozzle usually costs 3,000 yuan ($443), which they consider expensive.
Therefore, the tops of abandoned wells are left open.
Zhang Yong, a rescue team leader, said abandoned wells should be filled in order to avoid potential danger.
No villages officials commented on the incident.