Snow leopards caught on camera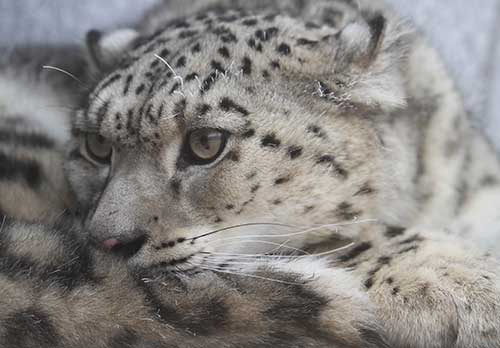 A snow leopard is pictured at a zoo in Jinan, Shandong province.[Ju Chuanjiang/China Daily]
Images of a trio of snow leopards were said to have been caught by a camera installed in a nature reserve in Northwest China's Xinjiang Uygur autonomous region.
An infrared camera in Lop Nor Wild Camel National Nature Reserve captured the cats navigating the icy waters of a frigid valley in February, staff at the reserve administration said on Thursday.
Snow leopards are a Class-A protected animal and are usually found in the Himalayan ranges of Central and South Asia.
"Adult snow leopards are usually solitary animals. Males and females only interact during reproduction season," said Yuan Lei, a senior engineer with the administration. "The animals caught on camera could be a mother leopard with her two cubs."
Snow leopards typically live at an altitude of 2,500 meters to 4,500 meters, but the area where they were pictured was only 2,300 meters above sea level.
"The reserve has a varied topography and plenty of wild animals," Yuan said. "These images prove that there is enough food in the area and the climate suits the species."
More than 30 infrared cameras have been set up in the reserve since 2013 to monitor wild animal activity. This is the third consecutive year that snow leopards have been spotted, Yuan said.