Xi casts vote for new lawmakers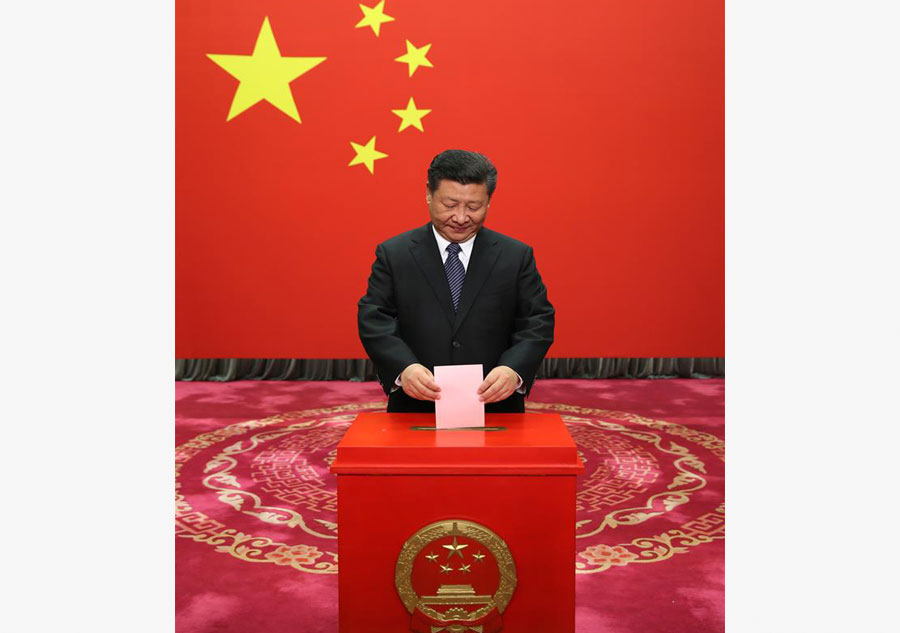 President Xi Jinping casts his ballot at a voting station in Zhongnanhai, the central government compound, in Xicheng district, Beijing, as the city's voters choose district-level lawmakers on Tuesday.[Photo/Xinhua]
President Xi Jinping cast his ballot at a voting booth in Beijing on Tuesday to elect new lawmakers for the local people's congress in his district, with a total of 9 million voters in the capital electing more than 15,000 lawmakers.
Xi cast his vote at a polling station in Huairentang, Zhongnanhai electoral district, in Xicheng district, along with more than 1,200 other voters.
The president said county and township-level elections are a major political event for the country, requiring adherence to the Party's leadership, democratic spirit and acting in accordance with laws to ensure the people's right to vote and the right to be elected.
He called for zero tolerance on any violations of the regulations and laws on elections.
Six other members of the Standing Committee of the Political Bureau of the Communist Party of China Central Committee, including Premier Li Keqiang and top legislator Zhang Dejiang, also cast their votes at polling stations in Beijing.
The deputies-4,373 at district and 9,946 at township level-after being elected, will vote for the new lineup of local governments at the grassroots legislature's plenary session.
In the capital, there are a total of 12,260 polling stations in the districts and counties.
Song Huiying, from Xicheng district, who visited a polling station to cast her ballot, said: "Our community has severe problems concerning the environment. I hope the deputies we select address our concerns and help us solve such problems."
Zhu Guangwei, 84, who has voted in such elections since 1954, said that "the 17 voters' cards have witnessed me exercising my democratic political rights".
Like Beijing, many cities have started or will commence elections for new lawmakers at township and county levels.
More than 900 million voters nationwide will elect more than 2.5 million new deputies at the grassroots level, according to a statement by the National People's Congress Standing Committee.
Xinhua contributed to this story.