Xi's speech on cyberspace applauded
President Xi Jinping's video speech at the opening ceremony of the third World Internet Conference earned wide praise from experts, scholars and entrepreneurs.
"China will work together with the international community to ensure the common well-being of humanity, uphold cyber sovereignty, promote more fair and equitable global internet governance and bring about an open, inclusive and secure cyberspace, that features equality, mutual respect, innovation and orderly development", Xi said.
Here is a collection of comments from attendees.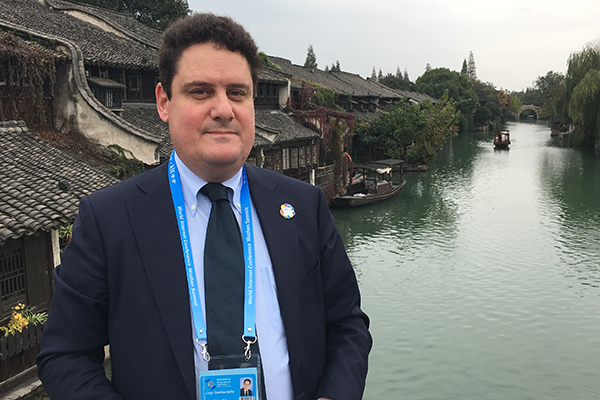 Luigi Gambardella, president of ChinaEU. [Photo by Chen Yingqun/chinadaily.com.cn]
Luigi Gambardella, president of ChinaEU, a business association based in Brussels, attended the opening ceremony of the third World Internet Conference in Wuzhen, Zhejiang province, on Wednesday. After watching President Xi Jinping's keynote speech via video, Gambardella said:
"Dream, leadership and innovation are the three key words of the inspiring speech of President Xi at the opening of the 3rd World Internet Conference. First, Xi has laid out a dream, a vision for the future development of the internet: building a community of common future in cyberspace. Second, China has the resources and the ambition to lead the revolution of the current system of global internet governance, and the success of WIC, already a brand worldwide, clearly demonstrates this ability. Third, Xi has stated China's innovation-driven development strategy and the new opportunities that internet creates for mankind."
He also shared his expectations for the conference:
"The conference should promote the development of concrete ideas for actual international cooperation in cyberspace. In this respect, I expect that projects like the Internet City (signed at WIC last year) and the Digital Research Center between Europe and China, whose concept was launched last year as well, will be implemented. I would also like to see the creation of a fund for the development of innovative startups in China and overseas."