Executives' insight on future of the web
Editor's note: The third World Internet Conference, also known as the Wuzhen Summit, is taking place in Wuzhen, Zhejiang province. China Daily reporters interviewed a group of senior information technology business executives to learn their views about innovation and how internet is reshaping China.
Q1: What do you think of the role of the internet or innovations in China's economic transformation?
Q2: From your perspective, what are the characteristics of a powerful internet country? What do you think are the advantages and challenges China face in becoming a powerful internet country?
Q3: In the next few years, which sector do you think will most likely become a disruptor in the internet or technology space? Or in other words, what do you think will be the next hotspot or trend?
Q4: In terms of a "capital winter", what kind of impact do you see it having on your company, and how would you forecast the "temperature" in the internet market in 2017?
Q5: In the past year, what transformations in the internet or technology sector do you think have the ability to influence our future or the future of the industry? What do you think are the reasons for this transformation?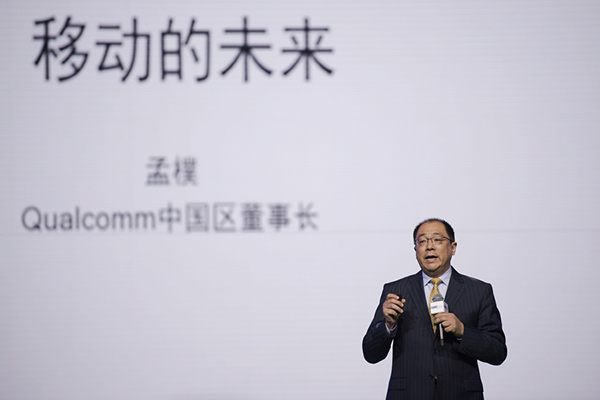 Frank Meng, chairman of Qualcomm China. [Photo/VCG]
A1 Today, China is building itself into a new innovation powerhouse. Innovation will be prioritized in China's development in the next five years to shift China's economic structure into a higher-quality and sustainable growth model.
A2 China has played an essential role in the development of the mobile internet. Enhancing China's innovation capabilities will be a key driver for China to evolve into an internet powerhouse, and the key is to proactively deploy in and integrate itself into the global innovation network and optimize the allocation of innovation resources worldwide in the future.
A3 Connectivity is widely used in the healthcare, education, automotive, robotics and drone sectors, and has yielded substantial results. Take the automotive industry as an example. We believe that regardless of what the next promising area is, the core will certainly be the capability of leveraging connectivity and mobile computing technologies to change people's lives and become a tool of productivity.
A4 In the area of venture capital investment, we are at the top as the most active corporate VC worldwide in the mobile and telecommunication fields. And today, we are strategically shifting our investment focus from "mobile internet" to "frontier technology", which includes artificial intelligence, virtual reality, augmented reality and aerospace technology.
A5 5G is a unifying, more capable communications fabric that will take on a much bigger role than previous generations of mobile technology. It's a layer of connectivity that will become fundamental to our cities, jobs, homes, and ourselves. 5G will expand mobile networks and technologies into a much wider range of industries and thus change the way we interact with our world and each other.