Giving sick children dignity in death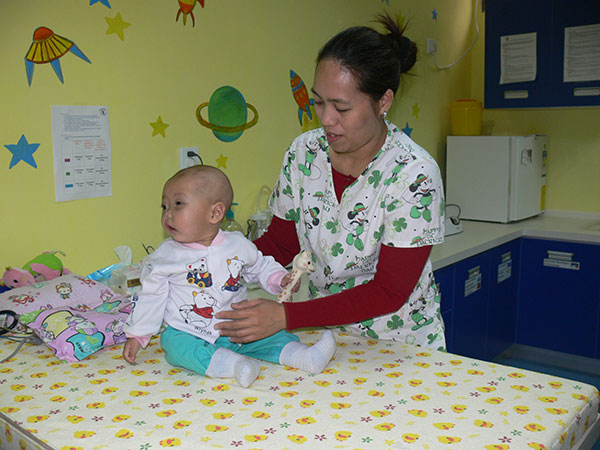 Sophie, a cancer patient who died last year, with a pediatric nurse at the Butterfly Home. Lyn Gould For China Daily
The concept of palliative care for minors with terminal illnesses is gaining ground in China. Zhao Xu reports.
Lyn Gould spent just one day with Alexa, a 10-week-old girl who had been abandoned by her parents after an operation, but she will not forget the toddler, who died late last year.
"Her tiny body was fragile and encumbered with drains and post-operative wounds," said Gould, co-founder of the Butterfly Children's Hospices, an NGO that runs the Butterfly Home in Changsha, Hunan province, in an email exchange with China Daily. The hospice is the first in the country devoted solely to children with terminal illnesses.
"For some of our new staff, Alexa was the smallest baby they had ever seen. At first, our carers - ayi as we call them in Chinese - were afraid their hands would bruise or break this tiny hummingbird of a girl," Gould said.
"Yet with quiet resolve, our staff put their fears aside - to see Alexa's ayi holding her close and singing was incredibly beautiful. Her time was close and she had experienced only hurt in her life so far. But for the brief time she was with us, she knew only love," said the 67-year-old, who set up the Butterfly Home in 2010, after working as a pediatric nurse in the United Kingdom for nearly 40 years.
Emotional support
Fu Xiaoli, the home's director, said love is at the heart of palliative care, a term that is becoming increasingly common in the Chinese medical world. "Palliative care is specialized, all-around care for people with severe, often terminal, illnesses. Rather than providing active treatment aimed at a cure, palliative care focuses on the relief of symptoms and offering mental, emotional and social support for patients and their families. Quality of life and a comfortable and peaceful end of life is what we have in mind," she said.
To provide a sick, abandoned child with a sense of peace is a daunting task, and the absence of a loving family is just one of many undermining factors.
Zhou Xuan, an oncologist at the Beijing Children's Hospital, clearly remembers seeing a dying boy pressing his face against the window beside his bed. "He was about 2, and had acute myeloid leukemia. For most of the four months he stayed on the ward, he longed to go outside and play, a request repeatedly turned down by his mother who was worried about his physical condition," she said.
"Weeks later, I came across the boy's mother at the hospital. She was traumatized by his death, and by the fact that she had refused his 'one last wish'," Zhou said. "Sadly, regrets are common among parents, who are focused too single-mindedly on seeking a cure for their dying child."
She said the success of children's palliative care in China will depend on whether parents can accept that the process is not about "giving up", but about "making peace with oneself while having a dignified, less-painful exit from life's stage. In the West, this is done by specially trained teams of doctors, nurses and social workers who work together with a patient's doctors to weave an extra layer of support for the patients and their families. In China now, my team of doctors and nurses have to undertake dual roles."
Strangely, this arrangement may better suit the current situation: Chinese parents are generally skeptical about the notion of palliative care, and consequently may need advice from people they trust, such as medical staff who treated their child.
"We advocate an integrated approach, whereby palliative care is offered to patients at a relatively early stage, along with curative treatment," Zhou said. "Later, as the illness progresses, we gradually raise the level of palliative care while reducing the role of active treatment."
In reality, breakthroughs often come at unlikely - sometimes painful - moments; for example when active intervention has failed or wreaked considerable damage on the child. "When parents feel vulnerable, they tend to be more open to ideas that they might otherwise immediately dismiss," said Wang Xumei, a veteran pediatric nurse in Zhou's department. "Symptom control and making terminally ill patients feel as comfortable as possible is embodied in the definition of palliative care. A lot of trust and understanding is gained when we lift children out of physical suffering with morphine-based medication," she said.