First five female attack helicopter pilots for PLA Army ready for action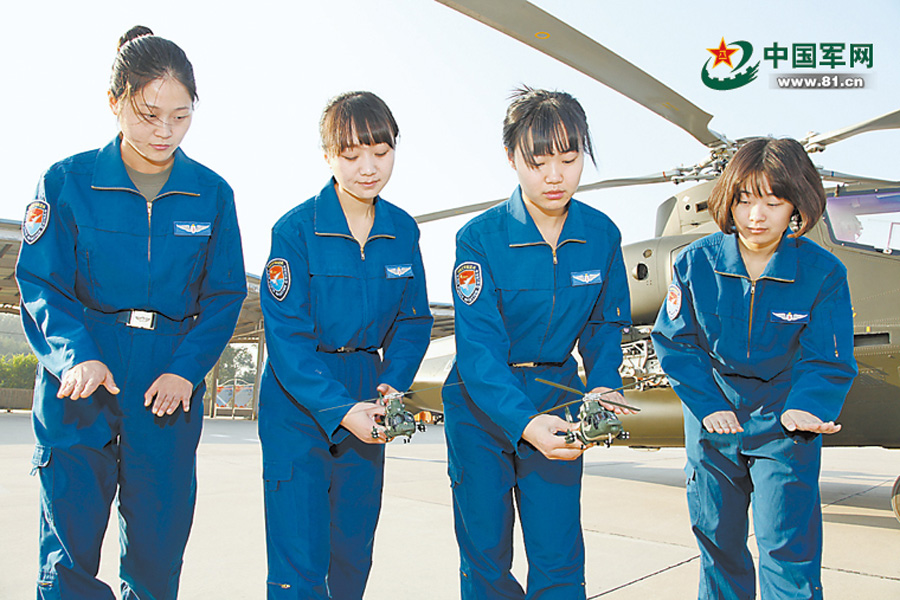 Female attack helicopter pilots are in training. [Photo/81.cn]
Five female attack helicopter pilots, the first batch of army's aviation corps, have independently completed tens of flight maneuvers and attack tasks after two years of training.
These pilots were chosen from the People's Liberation Army's Air Force in 2014 to join the brigade of the PLA's Army's aviation corps.
The brigade commander said they trained the pilots using methods that shortened the course time dramatically before they could independently carry out the missions in the sky.
As the pilots were used to flying fixed-wing aircraft, they found it difficult to operate the helicopters as they were using too much force on the joystick.
The instructors had to teach them the basic movements and pay more attention to the ground simulation training. The trainers helped them carry out the actions separately and pass each test one by one.
They followed the flight training procedures of preparations, mission and phase reviews. The trainers also held regular meetings with the pilots to discuss their performance.
Multiple tools were used to improve the course, such as multimedia, animation and videos.
The trainers also tested the pilots' resilience, confident and ability to handle different situations during the course.
According to the brigade, the new method would significantly help train other pilots in a short period in the future.