China commemorates 150th birthday of Sun Yat-sen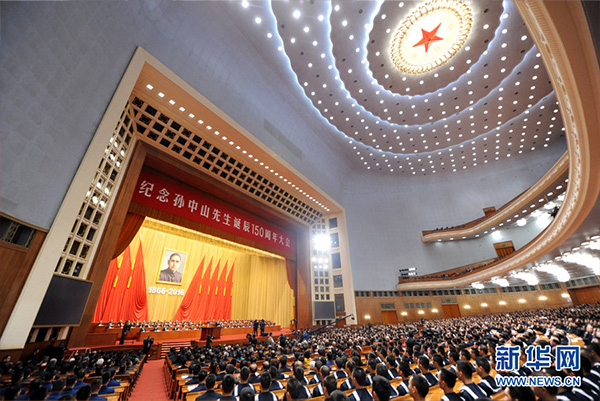 A gathering to commemorate the 150th birthday of Sun Yat-sen is held at the Great Hall of the People in Beijing on November 11, 2016. [Photo/Xinhua]
People from both Chinese mainland and Taiwan should make joint efforts to fight separatists and safeguard unity of the country, President Xi Jinping said on Friday in a ceremony to mark a late statesman that is widely respected by both sides across the Taiwan Straits.
"We would never allow any people, organization or political party, in any time, with any form, to separate any piece of Chinese land from the nation," Xi said in a solemn tone, which won long-lasting applauses from the listeners at the Great Hall of the People in Beijing.
The president's remarks are made to commemorate the 150th anniversary of the birth of Sun Yat-sen, who led a revolution in 1911 to end the imperialism rule of the Qing Dynasty and founded the Republic of China.
Sun is also the founder of Kuomintang (KMT), which governed Taiwan for decades from 1940s to 1990s and from 2008 to 2015. Mentioning that Sun is a national hero and compatriot, Xi said that the late revolutionary leader is a firm supporter of national unity.
For all Taiwan political parties, organizations and personals, as long as they acknowledge that both the mainland and Taiwan belong to one China, the mainland side would like to communicate with them, Xi said.