Patient grows ear for transplant on his arm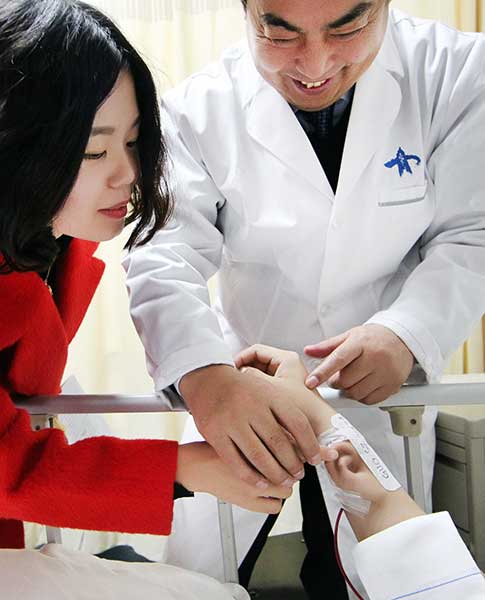 Guo Shuzhong, an expert in reconstructive surgery at the First Affiliated Hospital of Xi'an Jiaotong University, checks an ear grown on the arm of a patient, who lost his right ear in a car accident, on Wednesday.[Ruan Banhui/For China Daily]
Doctors treating a man who lost his right ear in a car accident have helped him grow a new one-on his arm.
The patient, identified only as Ji, who is in his late 30s, was injured a year ago and has been receiving treatment from Guo Shuzhong, an expert in reconstructive surgery at the First Affiliated Hospital of Xi'an Jiaotong University in Xi'an, Shaanxi province.
Guo, who has 33 years of experience, and his colleague, Shu Maoguo, devised a three-step reconstruction plan using part of the patient's rib cartilage.
In the first phase, doctors buried a skin expander in the patient's right forearm and regularly injected water to expand the skin. In the second phase, doctors took part of the rib cartilage from the patient and buried it under the expanded skin, which was successfully done on Tuesday.
"The third phase of the operation, to transplant the new ear onto Ji's head, will be carried out in three or four months," Shu said.
Doctors have to wait for the ear to grow completely in order to make it perfect for the patient, he explained.
Ji, looking at the ear growing on his right arm, said with a smile: "It looks exactly the same as my old ear."