Racing to rescue boy trapped in North China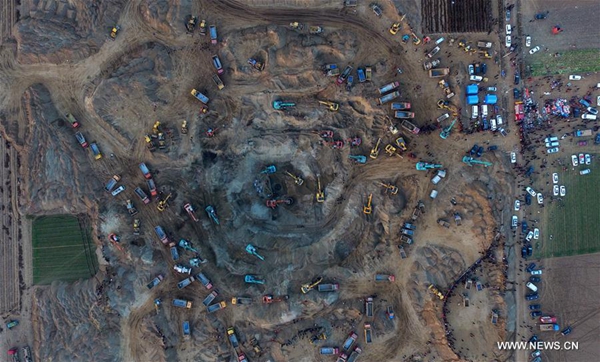 Excavators work at the rescue site in Zhongmengchang village of Lixian county in Baoding, North China's Hebei province, Nov 8, 2016. [Photo/Xinhua]
SHIJIAZHUANG - Rescuers in the northern province of Hebei are racing against the clock to rescue a boy who has been trapped in an abandoned well for over 60 hours.
Over 500 rescuers and some one hundred excavators are working at the 40-meter deep dry well in Lixian County, Baoding City.
The boy, 6, fell down the well on Sunday morning when helping harvest vegetables with his father. His father put out a call for help on the social-networking app Wechat and rescuers and the public rushed to the scene to help in any way they could.
As the 30 centimeter-diameter well was too narrow for any adult to climb into, rescuers are digging out the well to try and reach the boy.
Thus far, the shaft has been widened to 100 meters, and oxygen is being pumped into the well. Signs of life have not yet been found, although the rescuers are nearing the bottom of the well.
The rescue has been hampered by the soft sandy soil, which is prone to collapse. Measures have been taken to support the shaft during the excavation.
During the past three days, many members of the public have volunteered to help the rescue by donating food and money. Locals also rushed to the scene to prepare food for the rescue team.
The story is being widely shared and discussed.