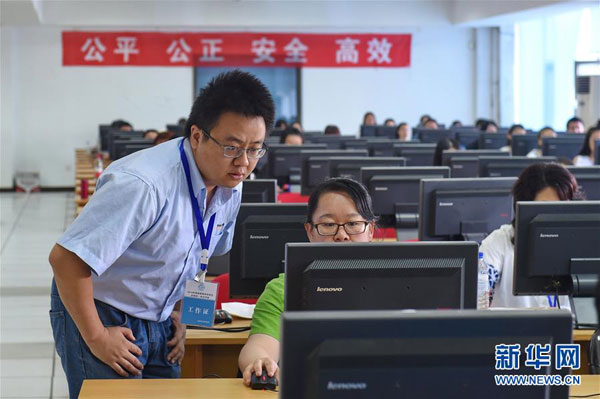 A teacher conducts a random check on an electronic exam paper at Jilin University, on June 14. [Photo by Zhang Nan/Xinhua]
The news of a Tsinghua University teacher scammed out of 17 million yuan ($2.5 million) by telecom fraudsters recently sparked heated discussion about the income of college teachers.
However, the average monthly income of a Chinese college teacher is only 5,478 yuan ($822), a recent survey has found, according to a report by Chinanews.com.
The survey, released in Beijing by education data and consulting company MyCOS, polled more than 4,000 college teachers across the country last month.
There are obvious income discrepancies between male and female teachers, as well as teachers with different professional titles.
The average monthly salary of a male teacher reached 5,717 yuan, 700 yuan higher than that of their female colleagues, the survey showed.
A teacher with a professor title tops the ranking with an average monthly income of 7,947 yuan, while at the bottom is a teaching assistant earning an average 3,786 yuan per month.
Among teachers who said they were unsatisfied with their income, 71 percent of them believed the revenue for college teachers as a whole was relatively lower compared to other professions.
And 67 percent of them said the growth of their income was not able to catch up with the rising price of commodities.
More than 50 percent of the teachers surveyed had performed part-time jobs to boost their personal income, according to the survey.