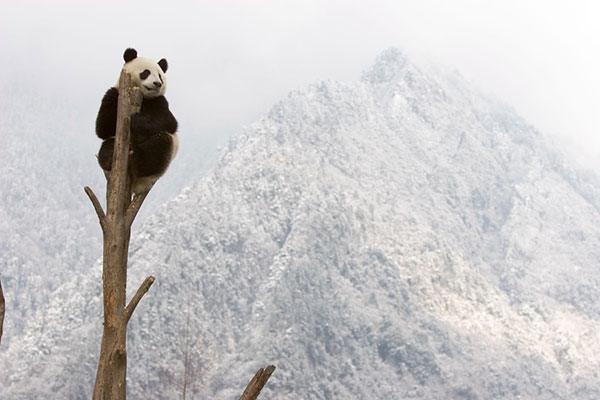 An undated photo of a wild giant panda. [Photo provided by WWF China/chinadaily.com.cn]
BEIJING - China's State Forestry Administration (SFA) said Monday that it was too early to downgrade the giant panda's conservation status after an international group reclassified it from an "endangered" to "vulnerable" species.
The International Union for Conservation of Nature announced the change in a report, after reviewing the results of conservation efforts that have boosted the panda's population.
Insisting that the pandas remain classed as endangered, the SFA stressed that there are still threats to the animal's survival.
The wild giant panda population is fragmented into 33 isolated groups, with some having fewer than 10 animals, which limits the gene pool for reproduction.
Meanwhile, climate change is predicted to wipe out more than one third of the panda's bamboo habitat, a situation that will only be exacerbated by insufficient funding and technical support.
"If we downgrade their conservation status and our protection work is reduced, our achievements would be quickly forgotten," the administration noted.
Over the years, China has implemented a series of environmental initiatives, including the establishment of nature reserves, to increase the giant panda population.
At the end of 2015, China had 1,864 giant pandas in the wild, increasing from about 1,100 in 2000, and there were 422 in captivity, according to the SFA.