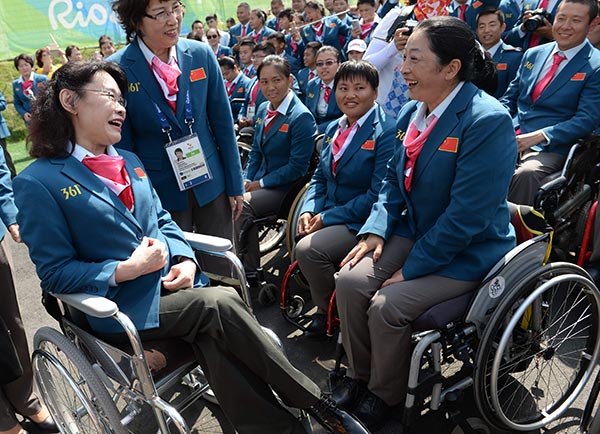 China's Paralympic delegation chief Zhang Haidi (left) talks with other members participating in a flag-raising ceremony at Paralympic Village in Rio de Janeiro, Brazil, on Monday.[Photo/Xinhua]
China's central authority has issued a national action plan to reduce new disability cases by 2020 by promoting awareness and early screening, Xinhua News Agency reported on Tuesday.
According to the plan, issued by the general office of the State Council, most women should be screened for hereditary conditions, and prenatal checkups should cover 60 percent of women over the next five years.
By the end of the five years, 85 percent of newborns and children will have been tested for disabilities. Moreover, in the same time span, 90 percent of eligible children will have received free vaccinations, the document said.
The document called for better safety supervision at production facilities and improved road traffic management to reduce disabilities resulting from injury.
Duan Leilei, director of injury prevention under the Chinese Center for Disease Control and Prevention, said that of all the causes of injury and death of children, road traffic ranked second.
"Using child safety seats is the most effective way to protect children," Duan said. "China has been working on raising the awareness of parents. However, it needs joint efforts in the future. We should not only make parents realize the importance of safety seats but also inform them about the right way to use them. The government also needs to regulate the child safety seat market."
In addition, the document said support should be improved so that at least 80 percent of disabled people have access to basic care services by 2020.
Zhao Tizun, director of community-based Rehabilitation Department under China Rehabilitation Research Center, said basic care services for the disabled will require more qualified workers.
"Among the 85 million disabled, more than 50 million need help with rehabilitation. However, only 70 universities and colleges have related majors and no more than 8,000 students graduate every year. This can't meet the demand," Zhao said. "In the next five years, we should promote the establishment of rehabilitation universities."
Working committees for the disabled at various levels were urged to supervise and inspect the implementation of the plan. A final inspection will be carried out in 2020, the document said.
Su Zhou contributed to this story.