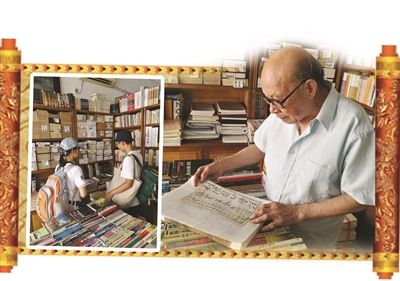 Jiang Chengbo looks at an ancient book in his bookstore(R). Two customers pick up books in Jiang's bookstore (L). [Photo/Yangtze Evening News]
A 90-year-old man who runs a 117-year-old antique bookstore inherited from his grandfather has become an internet celebrity, Yangtze Evening News reported.
Jiang Chengbo, the owner and third generation successor of the bookstore, said that since a visitor put information about the bookstore on the internet, antique book lovers from across the country have come here to look for books and take photos with him.
Located in Niujia Alley, Suzhou, East China's Jiangsu province, the bookstore covers an area of about 13 square meters and is filled with bookshelves on three sides with antique books neatly categorized as literature, history and philosophy.
The bookstore "Wenxueshanfang", which translates literally into "literature mountain house", was founded in 1899. At the time, the bookstore had a large number of antique books, some of which were rare books.
Hearing of the bookstore's good reputation, Xu Shichang (1855-1939), president of the Republic of China between 1918-1922, honored the store by inscribing the plaque for it.
The bookstore rose to fame afterwards and many renowned literary superstrs of the time, such as Zhang Yuanji, President of the Commercial Press, historian Gu Jiegang, writer and translator Zheng Zhenduo, and philologist and philosopher Zhang Taiyan, became frequent visitors. It was a common scene to see scholars and writers have discussions in the store.
In 1956, the bookstore was merged into state-owned Suzhou ancient books store and the "literature mountain house" disappeared.
But Jiang's heart was always in the original bookstore. Since he was 16 years old, Jiang helped his grandfather to run the bookstore and he became the employee of Suzhou ancient books store where he was responsible for collecting antique books after the store was merged. After retirement, he was still involved in exploring, rescuing, repairing and preserving antique books.
Decades of working with antique books have made Jiang a famous scholar of antique editions.
In 2001, constraints on family finance urged retired Jiang to reopen the bookstore but with a new name. The new store took 10 years to become a flagship among the privately-owned antique bookstores in Suzhou. Many customers suggested Jiang change the store's name into its original one and "literature mountain house" was revived in September, 2012.
As Jiang gets older, Jiang's children try to persuade Jiang to give up the bookstore. Because family finances have improved now and the store's profits have declined as rent climbs.
Jiang refused, saying, "This is the career of my life. As long as I can walk, I will never give up." Obeying his will, Jiang's three children help him to run the store every day, taking turns.
The national library and provincial libraries, who Jiang called his "big clients", collect books from his store to fill their collections. Many university professors, scholars and book collectors are also his regular customers.
In the age of internet, Jiang's bookstore welcomes a new lot of antique book fans, who know of the store through the internet. They visited Jiang from all over China, including North China's Beijing municipality and Inner Mongolia autonomous region, Central China's Hubei province, Southwest China's Sichuan province and etc, turning him into an "internet celebrity".
A netizen, using the internet name "Shufan", is a case in point. He wanted to visit the bookstore but lost his way, when he came to Suzhou during summer vacation. He called Jiang and found the store in 10 minutes with Jiang's directions. "Shufan" picked up three books, chatted with Jiang about the history of the store and took a photo with Jiang before leaving.
Aside from providing books to customers from his current stock, Jiang also helps readers to collect books they are looking for.
In 2015, the bookstore was awarded as an "excellent bookstore of Suzhou", getting a bonus of 30,000 yuan ($4,492). Jiang used the money to replace the book shelves, bringing a new look to the revered old bookstore.