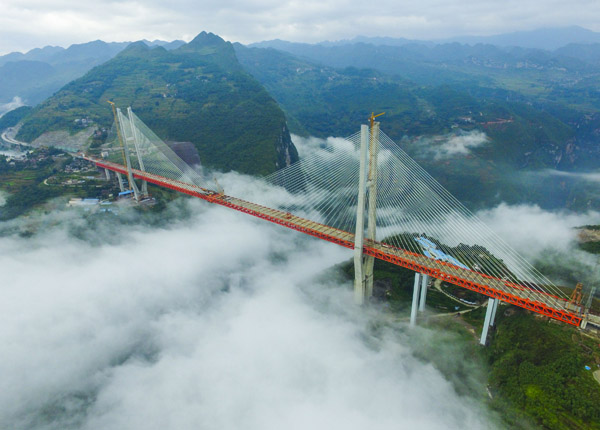 The Beipanjiang Bridge connects Xuanwei, Yunnan province, and Shuicheng, Guizhou province, in Southwest China. [Photo by WU DONGJUN/CHINA DAILY]
With the joining of two bridge sections from opposite sides of a gorge in Southwest China on Saturday, the world got its highest bridge.
The Beipanjiang Bridge in Guizhou province is expected to open to traffic by the end of the year.
The 1,341-meter-long structure, soaring 565 meters above a river, overtook the Sidu River Bridge in Hubei province as the world's highest, according to Guizhou transportation officials. Zhou Ping, director of the highway management office that is overseeing construction, told Science and Technology Daily that the bridge's height is equivalent to a 200-story building.
The three-year construction project began in 2013 with a total cost of 1.03 billion yuan ($156 million), an official statement said. Vehicles will be able to cross the bridge at up to 80 kilometers per hour.
"The bridge is built in a mountainous area above the Nizhu River Canyon," said Wang Chao, senior engineer at Ministry of Transport's highway planning institute. "Construction is affected by the wind, requiring a high degree of precision. Transporting materials to the canyon was very difficult. Usually, we transport assembled sections. But on this project we did the opposite, transporting parts and assembling them on site."
The bridge links Yunnan and Guizhou provinces, and is expected to reduce driving time to one hour from nearly five in the past.
The span is part of the Hangzhou-Ruili highway, which is expected to open to traffic at about the same time as the bridge.
The 3,404-km highway connects eastern and southwestern China, cutting across tourism cities, including Huangshan, Zunyi, Liupanshui, Kunming and Dali. Boosting tourism is one objective.
"We are about to build a bed-and-breakfast hotel to attract visitors when the bridge opens," said Liu Jiaen, head of Lalong village in Yunnan province, where one end of the bridge is located.
AFP contributed to the story