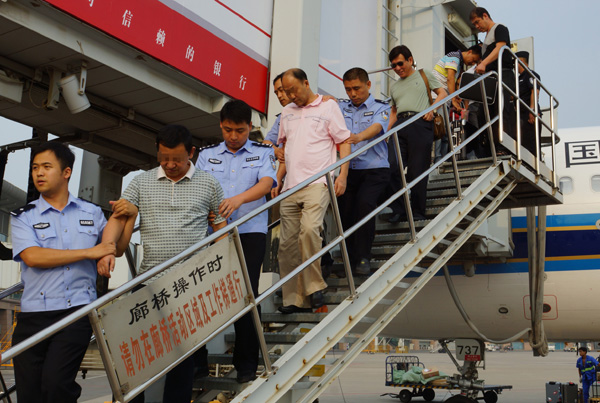 Two economic fugitives (second and fourth) are repatriated on Aug 3, 2014 from Cambodia after fleeing overseas with illicit assets. [Photo/China Daily]
331 individuals who fled are caught abroad, and 221 come back to China on their own
Hundreds of crime suspects on the run overseas have been streaming back to China at the rate of about two a day, the result of a concerted international drive by the Ministry of Public Security and its counterparts abroad.
In the first nine months of the year, 556 fugitives returned to China from 59 countries and regions, including Australia, Canada and the US, said Yang Shaowen, deputy director of the International Cooperation Department of the Ministry of Public Security. Most were "economic fugitives", he said.
Many of the individuals on the run are suspected of graft and theft of public funds.
Of the returnees, 331 had been arrested and sent back with the help of law enforcement agencies, 221 returned of their own volition and surrendered to authorities, and others had been prosecuted in the countries where they had taken refuge, Yang said.
China has been working more closely with overseas law enforcement agencies since last year, and now has extradition treaties with 41 countries and judicial assistance treaties on criminal cases with 52 countries and regions.
Since a list of the 100 most-wanted fugitives was published in April, the pace of law enforcement efforts has gathered steam.
"The list is of great help for government departments in New Zealand in finding Chinese fugitives hiding in the country. Thanks to the publication of the information we were able to trace a suspect who entered the country through a student's visa in April," said Hamish McCardle, a police liaison officer at the New Zealand embassy in Beijing.
The suspect's name was put into bank systems in New Zealand after the release of the list and the millions of dollars in deposits into the suspect's accounts in New Zealand were reported to law enforcement departments, he said.
"Now I am working closely with my Chinese counterparts to further investigate the case. It takes some time to collect all the evidence and go through legal procedures," McCardle said.
There is a tremendous amount of work needed to bring back fugitives, and if they remain in hiding it is hard for police officers to find them, said Chang Ning, deputy director of a squad in the economic crime investigation department of the ministry.
Usually, the longer the fugitives stay in another country the more work that is needed to bring them back. Once they are granted citizenship of another country, the legal procedures of investigation and extradition are much more complicated, according to Chang.
It took almost 10 years to bring back from Italy a suspect who embezzled 1.4 million yuan ($225,000) from her clients at the security company where she worked. The suspect, who was sent back in February, is the first extradited from a European country and is facing justice in China.
China now has partnerships with 198 countries on public security affairs and has sent 62 police officers to embassies in 30 countries and regions.
Apart from the increased efforts to crack down on economic crimes, China is ready to step up collaboration with all countries, especially the countries in central Asian and Europe that are included in China's Belt and Road Initiative to fight terrorism, smuggling of drugs and weapons, and cross-border gambling, Yang said.