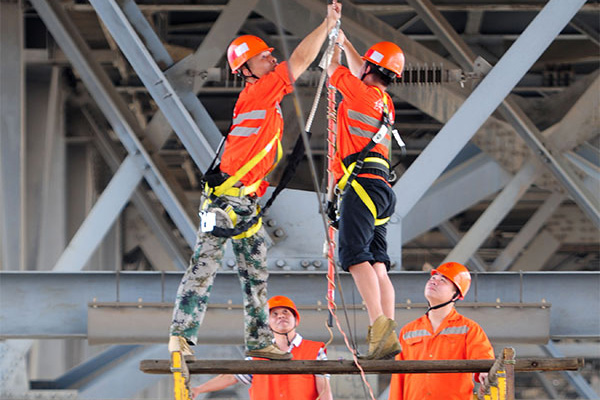 Workers reinforce a bridge on the Yangtze River in Jiujiang, Jiangxi province. [Photo/China Daily]
Social development and improving people's livelihoods form the major part of China's next five-year development plan, according to a leading economist and adviser on drafting of the blueprint.
The draft of the 13th Five-Year Plan (2016-20) is being discussed by an ongoing top leadership meeting in Beijing before being submitted to the National People's Congress, the top legislature.
The plan centers mainly on citizens' all-around development, said Hu Angang, a professor at Tsinghua University School of Public Policy and Management.
Hu told China Daily that economic factors comprise little more than 10 percent of all government tasks in the upcoming five-year plan.
Social policies to be launched in the blueprint will include a change to the family planning policy to encourage all couples to have two children, instead of only one under the existing policy, Hu said.
The new plan will cover the five main areas of social development-education, employment, culture, health and social security, Hu said, adding that it will also feature more targets for environmental protection.
Hu said the plan not only features China's development vision, but will also help its business partners globally.
Although the blueprint will contain fewer specific targets than previous plans, it will continue to point the way for China's economic development.
"Every point could be based on a major policy and industry-specific program, and represent important opportunities for foreign companies," Hu said.
Although the five-year plan took its name from the era of the planned economy and the Soviet five-year plan, it no longer includes a set of economic figures such as production targets and prices.
"In the process of China's reform and opening-up, the five-year plan has been remade," Hu said. "It has become a program for human development, or citizens' needs in all aspects."
The plan does not exclude the role of market forces, according to Hu. "It is Chinese innovation to use market forces to motivate the implementation of government policies and the achievement of goals," he said.
Hu is among those who believe that China's economy can continue to grow by 7 percent in the next five years, although he said GDP is not a "mandatory index" or a certain percentage of growth that must be achieved by the government.
Instead, he said, there are many other mandatory targets the government must achieve in social development and people's livelihoods.