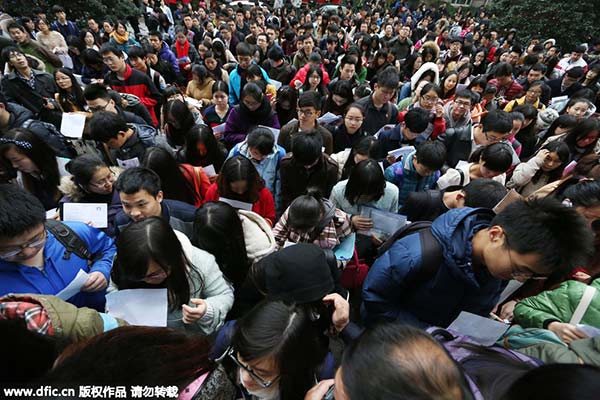 Chinese examinees walk towards an exam site to attend the 2015 China National Civil Service Examination in Nanjing, East China's Jiangsu province, Nov 30, 2014. [Photo/IC]
More than 1.39 million applicants signed up for China's national civil service exam this year, a slight drop of 1 percent year-on-year, according to the Ministry of Human Resources and Social Security.
An average of 50 applicants were vying for each position, lower than last year's 63.
At the same time, there are still 131 positions that require special academic backgrounds, such as meteorological observation and geology, with no applications at all.
An applicant who only wanted to be identified by the surname Xie said she has taken the exam twice. Last year, she failed the final round of the interview.
"My current job is stable and well-paid, but working for the government has long been my dream," said Xie, 28. "After years of education at one of the most prestigious universities in China, I want to do something meaningful."
The national civil service exam for selecting officials for the Chinese government started in 1994, with 4,400 people competing for 490 vacancies. The number of applicants has soared, peaking in 2013 with 1.52 million applicants. The number dropped to 1.4 million in 2014 and 1.39 million this year.
At the same time, a record 27,817 civil service jobs were advertised this year.
Li Zhong, spokesman for the Ministry of Human Resources and Social Security, disagreed with the suggestion that the increase in job vacancies was caused by more civil servants leaving.
"China is facing increasing pressure as an aging society. Many central government agencies are having to deal with these issues," said Li. "Besides, as reform continues, many local government agencies are taking over new tasks. This means they have to enlarge their talent pool."
Most civil service positions call for experienced applicants instead of recent university graduates, while a series of reforms recently put forward by the central government also aim at reducing the number of civil servants, said Feng Lijuan, a senior expert specializing in human resources at 51job.com, a leading Chinese job finding platform.
"A condensed team of civil servants is the new requirement of the central leadership and is also a trend in the world", she said.
Bai Ding, who offers private training for exam hopefuls, said jobseekers prefer private or market-oriented companies.
"In addition, young job hunters, especially those born in the 1990s, don't care as much about whether a job is stable and can adapt to a diversified job market easily with a more open mind," Bai said.
Contact the writers at suzhou@chinadaily.com.cn and caoyin@chinada-ily.com.cn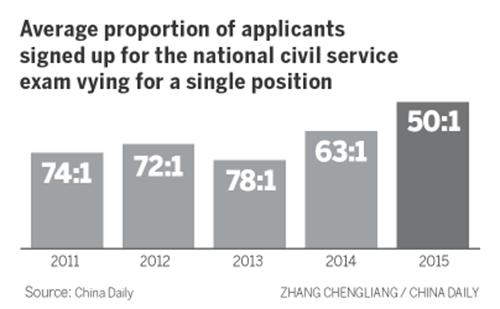 Average proportion of applicants signed up for the national civil servant exam vying for a single position. [Zhang Chengliang/China Daily]