In today's trending, two men react after a series of crashes at an intersection where the lights failed – by acting as human traffic signals, a Beijing kindergarten has its own mini-zoo and Mickey Mouse may be coming to Shanghai, but he's already a star in a rice paddy.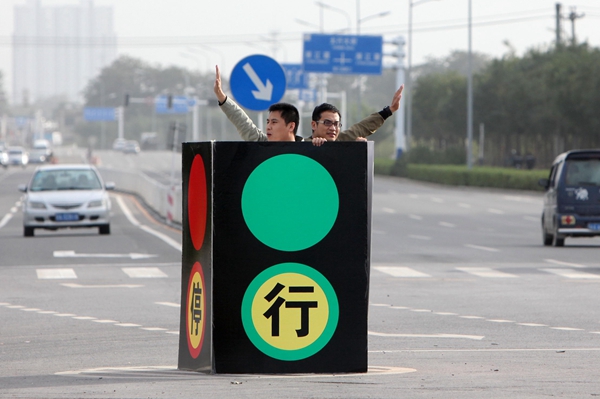 Two men act as human traffic signals on Monday at an intersection in Shijiazhuang, Hebei province. [Wang Yongbo/China Daily]
Human traffic lights ensure smooth travel in Hebei
Many people have probably played a role in a drama, or pretended to be an animal to entertain children, but few have had a chance to act as human traffic lights like the two heroes in our story.
Two men took on the job of human traffic signals at an intersection in Shijiazhuang, North China's Hebei province, when the electric traffic signals broke down and several traffic accidents occurred over the past month, Yanzhao Evening Post reported on Tuesday.
Liu Yichen, 33, and Chen Liwei, 39, are colleagues in a nearby technology company. They set up temporary signals using large plastic boards with the words "stop" and "go", turning in one direction or another every 30 seconds to aid drivers.
The city was evaluating the problem with the lights and sent police officers to direct rush-hour traffic.
Next up: Some kindergartens have class pets, but this one in Beijing has its very own mini-zoo.