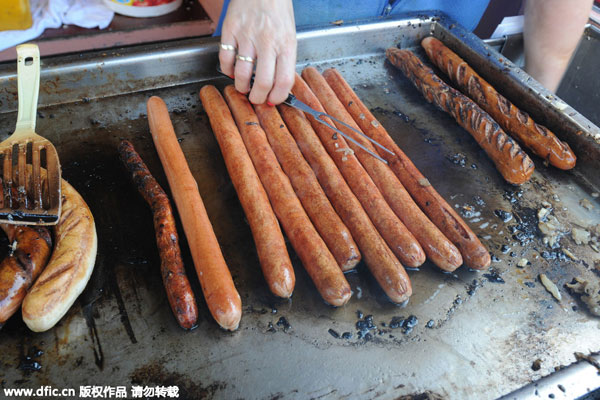 Bacon, sausage and processed meats, are 'carcinogenic to humans', said a report of the World Health Organisation (WHO). [Photo/IC]
Meat industries in China and abroad have questioned a recent World Health Organization report linking meat consumption to cancer.
"Meat products contain rich protein and are very important to maintaining the normal function of human bodies," the China Meat Association said in a statement released on Wednesday on its WeChat account.
"We believe a balanced diet is a primary factor to maintaining health. Eating safe meat at a proper amount is beneficial to health," said the statement.
According to a report released on Monday by the WHO's International Agency for Research on Cancer, processed meats such as sausages, ham and hot dogs contribute to bowel cancer, and red meat "probably" does, too.
It placed processed meat into its Group 1 category of carcinogens. Other substances in the group include alcohol, asbestos and tobacco.
"For an individual, the risk of developing colorectal cancer because of their consumption of processed meat remains small, but this risk increases with the amount of meat consumed," Kurt Straif, head of the IARC Monographs Programme, a group that evaluates cancer risks, said in the report.
The China Meat Association said, "Research has shown that cancers are caused by multiple factors, including environmental pollution, virus infection and radiation, and further research is needed to define the relationship between eating meat products and cancer."
The average meat consumption for Chinese reached 63.8 kilograms last year, almost twice as much as that of 1995, the association said.
Chen Wei, deputy chairman of the association, questioned the links between consumption of processed meat and colorectal cancer, according to a report on Wednesday by China News Service.
Processed meat has been consumed in Sichuan and Hunan provinces for centuries, but the two provinces are not areas with a high incidence of colorectal cancer, compared with other areas of China, he said.
Australia, one of the world's top meat exporters, rejected on Tuesday the suggestion that processed meat could be as lethal as cigarettes, referring to the IARC report.
"No, it shouldn't be compared to cigarettes, and obviously that makes the whole thing a farce-comparing sausages to cigarettes," Australia's Agriculture Minister Barnaby Joyce said.
Joyce added that "the biggest thing is to make sure you get a balanced diet", since it was impossible for humans to avoid every cancer-causing substance in daily life.
The Australian meat industry's research and development corporation, Meat and Livestock Australia, said that "promoting red meat as part of a healthy, balanced diet is important".
Christian Schmidt, Germany's food and agriculture minister, said on Tuesday that people should not be afraid of biting into a grilled bratwurst, despite the WHO's cancer warning.
AFP contributed to this story.