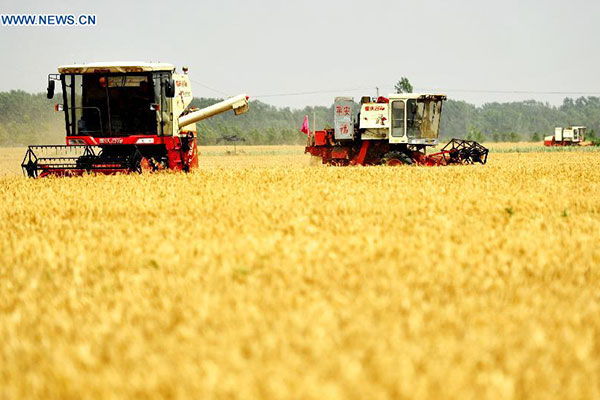 Harvesters work in wheat field in Sangyuan Township of Wuqiao county, North China's Hebei province, June 14, 2015.[Photo/Xinhua]
But the nation will remain self-sufficient in rice and wheat until 2020, says minister
China expects to increase its grain imports during the 13th Five-Year Plan period (2016-20) rather than continue to increase its farming capacity, according to Minister of Agriculture Han Changfu.
After increasing domestic grain production for the past 11 years, the country will, in what scientists see as a major shift, aim for stable output and quality products rather than ever-increasing domestic supplies, Han said in his report earlier this month.
As a result of population growth and urbanization, China's demand for grain is expected to rise from 600 million metric tons in 2014 to 700 million tons in 2020. By then, Han said, there will be a gap of perhaps 100 million tons between the domestic demand and supply, to be filled by imports.
However, the top agricultural official said, China will maintain 100 percent self-sufficiency in staple foods, especially wheat and rice, through the 13th Five-Year Plan. The imports will mostly be animal feeds.
"Based on the realistic capacity of the country's resources, we can ensure that the Chinese people maintain control over their own food supply, most importantly in staple foods," he said.
In 2014, the country saw a rise in its grain production for the 11th consecutive year, and "there is a great chance that" its grain output will continue to rise in 2015, Han noted. This is at a time when the country's combined grain reserve stood at 230 million tons, the largest in the world, the China Business News reported.
Fan Shenggen, director-general of the International Food Policy Research Institute, a think tank, said Han's remarks signaled a major shift in China's agricultural policy, with an emphasis on overall considerations of resources and the environment.
"The previous rise in farm production has been achieved at a huge environmental and ecological price, seen in, for example, extensive and sometimes excessive use of chemical pesticides and fertilizers," he said.
Ren Zhengxiao, head of the State Administration of Grain, said in a recent article on the administration's official website that the authority will strike a balance between tapping international grain resources and managing the domestic market.
Some agricultural experts say they believe China should not fear a managed increase in reliance on the international market.
Zheng Fengtian, professor of agricultural economics at Renmin University of China, said there is a great chance that the country will increase its import of soybeans, corn, meat and milk in the next five years thanks to the abundant, and often also cheaper, international supplies.
"It would be a win-win strategy," Professor Zheng said. "The increase in soybean imports will allow for greater acreage for wheat and rice."
However, the professor also noted that the country cannot rely on the international market for the supply of rice. "There are not many countries that are devoted to rice production, and if China suddenly enters the market as a buyer, its huge demand will inevitably send the price skyrocketing," he said.
Cheng Guoqiang, a researcher of agriculture with the State Council Development Research Center, a government think tank, said China should draft, in clear terms, its global agricultural procurement strategy and diversify import channels to ensure its grain security.
"China can support some developing countries to increase their production and their supply to the global market, which will in turn help China diversify its imports," he said.