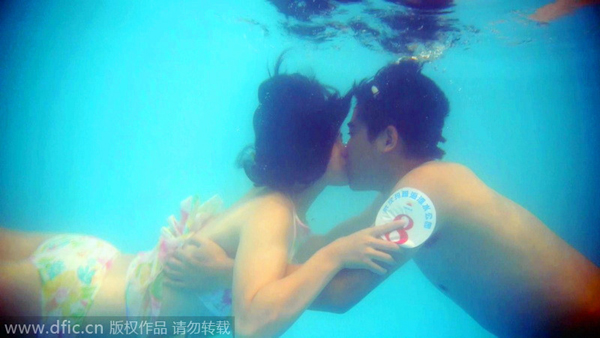 In this photo taken on Aug 2, 2014, a couple is seen hugging in water at a kissing competition in Wuhan, Hubei province, on Chinese Valentine's Day.[Photo/IC]
More than 70 percent of Chinese people are not satisfied with their sex lives because of stress and depression, according to the results of a national survey released on Sunday.
Nearly 90 percent of interviewees said satisfaction with their sex lives contributes greatly to their marital happiness and self-confidence.
But more than 40 percent said they had reduced their sexual activity because of depression or stress.
The survey, based on more than 72,000 questionnaires, focused mainly on people aged between 26 and 55. About 60 percent of the interviewees were men and more than 50 percent were office workers.
About 90 percent of Chinese men with erectile dysfunction turned to traditional Chinese herbs or folk remedies, according to the survey, which was released to mark National Men's Health Day on Wednesday.
It was conducted by the Chinese Medical Association's Society of Andrology and the China Sexology Association. Work on the survey started in the middle of the year.
About 75 percent of respondents said the biggest obstacles to achieving a high-quality sex life are depression and pressure from life and work, resulting in health problems including insomnia, smoking and alcohol addiction.
The survey found that nearly 90 percent of Chinese men suffering from a low sex drive, premature ejaculation or erectile dysfunction have turned to Chinese herbs or folk remedies.
Liu Defeng, a physician at Peking University Third Hospital, said, "Most of them feel shy about telling doctors about their problems, or are overly concerned about the side-effects of pills."
The survey found that only seven men out of 100 with sex problems in China had been treated with Western medicine. "Compared with the rate in many Western countries, the number in China is very low," Liu said.
It also found that more than 80 percent of Chinese people believe that erectile function is the most important factor in the quality of their sex lives.
In the United States, about 30 million men suffer from erectile dysfunction. Liu said 23 million of them had used Viagra, a Western medicine to treat the problem, after being prescribed it by doctors.
Pierre Gaudreault, chief marketing officer in China for Pfizer, the manufacturer of Viagra, said, "The problem of erectile dysfunction is not life-threatening, but will affect people's mental and physical health, or even the happiness of their family."