Editor's Note: This is the second in a series of special reports to mark achievements in various sectors during the 12th Five-Year Plan (2011-15). The fifth plenary session of the 18th Central Committee of the CPC will be held from Monday to Thursday. Discussion of the 13th Five-Year Plan (2016-20) is high on the agenda of the meeting.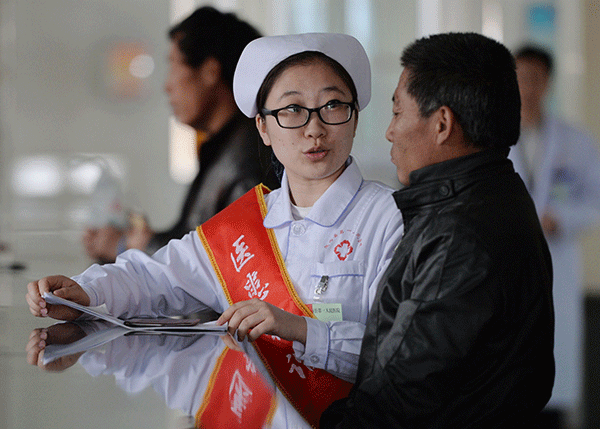 A nurse explains how to claim reimbursement from the national medical insurance program in Longxi County No 1 People's Hospital in Gansu province.[Photo/Xinhua]
The government is trialing measures designed to provide better medical services for people on low incomes
When doctors told Ding Yazhen that she had late-stage breast cancer late last year, the 43-year old resident of Xiushan county in Chongqing was devastated, and wondered whether to begin an expensive course of chemotherapy after having surgery.
Eventually, Ding decided to have the treatment after learning that her medical bills would not be as high as she had thought, thanks to a new medical insurance program.
Her four-day course of chemotherapy in August cost about 11,000 yuan ($1,730), but Ding paid about 5,000 yuan, less than half the total. A basic medical insurance program, which covers almost every resident of China's rural areas, paid about 4,000 yuan and the new program, called "Insurance for Chronic Diseases", paid about 2,200 yuan.
"The medical insurance for chronic diseases has really taken a weight off my shoulders," said Ding, who earns a living by farming and undertaking odd jobs. "It gives me hope to fight the disease."
The new program, adopted as a pilot in Chongqing in 2013, provides cover for 27 million rural residents and unemployed urban residents who have joined the local basic medical insurance program, according to the Chongqing Civil Affairs Department.
Last year, about 102,000 people in the city benefited from the new program, which reimbursed about 11 percent of each person's medical bills, the department said.
Extensive coverage
By the end of the year, the program, aimed at alleviating the financial burden of people with chronic or terminal illnesses, will cover all urban and rural residents who have joined China's basic medical insurance system. The only exceptions will be people working in urban areas who have joined a different insurance program, according to the National Health and Family Planning Commission, China's top health authority.
Under the program, subscribers are reimbursed for about 50 percent of medical costs not covered by the national basic medical insurance system. The program, which is being piloted in all 31 provinces, autonomous regions and municipalities on the Chinese mainland, now covers 700 million people.
By the end of last year, the basic medical insurance system — which includes programs to cover the rural population, employees in urban areas and the urban unemployed — covered more than 1.3 billion people, more than 95 percent of the population, according to the commission.
The chronic diseases program will be adopted nationwide by the end of the year and will cover nearly 1.1 billion people, according to Yao Jianhong, an official at the State Council's Medical Reform Office.
Zhang Peilin, president of the Ninth People's Hospital of Chongqing, said the program aims to provide better services for people on low incomes. "The medical insurance program for chronic diseases is a project to alleviate health poverty," he said.
According to Zhang, the hospital treated about 40,000 people last year, and nearly 2,000 patients with chronic diseases, such as cancer, benefited from the program by being reimbursed for an average 40 percent of their medical bills.
Reducing financial burdens
The program has reduced the financial burden on patients with chronic diseases, making it less likely that they will fall into poverty because of illness, he added.
"Medical treatment (cost) is a major cause of poverty for patients with chronic diseases," he said. "Before the program was adopted, there were some disturbing incidents related to high medical bills, and some patients with end-stage cancer even committed suicide."
However, in the two years since the adoption of the measures that provide additional assistance to people with serious illnesses, no other major incidents have occurred, and cases of patients becoming impoverished by treatment costs have almost ceased to exist, Zhang said.
"The program has offered new hope to patients such as these," he said.
Li Zhaoqun, from the Beibei district of Chongqing, has a tumor on her spine. She said she is no longer apprehensive about attending the hospital, compared with 10 years ago when she was not covered by the basic medical insurance program.
"Ten years ago, when I suffered a serious liver disease I had to muster all my courage to borrow more than 100,000 yuan from relatives and friends to cover the medical bills," she said.
"Now I only have to pay about half of the medical bills or even less if I can get some financial relief from the civil affairs department."
Zhang, of the Ninth People's Hospital, suggested amending a number of policies so the new program will focus more on those in need instead of attempting to provide widespread cover, even for well-off people.
"Some patients still face heavy burdens, even if the greater part of their medical bills is covered by the insurance," he said. "The program should be improved so it suits different groups."
The Ministry of Finance said the government will increase investment in medical insurance and encourage donations from wealthy individuals so the medical fund will keep pace with rising medical expenditure.