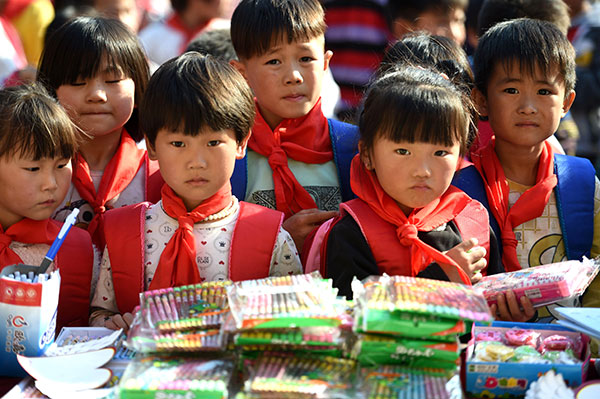 Children from poor families in Bozhou, Anhui province, receive stationery donated by volunteers. China will work hard to lift about 70 million people in rural areas out of poverty by the end of 2020. LIU QINLI/CHINA DAILY
Addressing the global poverty reduction and development forum  held in Beijing on Friday to mark the 23rd International Day for the Eradication of Poverty the following day, President Xi Jinping drew on his own experiences, saying poverty alleviation has always been an important part of his work in different posts over the past 40 years. Comments:
China has doubtlessly made many achievements in reducing poverty, as its poverty-stricken population in rural regions has fallen from 73.5 percent in 1990 to 4.2 percent of the entire population in 2014. Yet the challenge is pressing because there are over 70 million people whose incomes are under the international poverty line. Worse, there is a marginal effect in poverty eradication, according to which the very last part of job is the most difficult to finish. The leadership needs more effective measures to help the 70 million people who have been left behind.
ifeng.com, Oct 17
A unique phenomenon in China is that the fruits of its economic growth for the past decades have been enjoyed by the few rather than the many. It is bad public service and lack of rights that have left so many people in China living in poverty, because they do not have a say in the distribution of increased social wealth. I hope the leadership accelerates the process of establishing the rule of law so that those left behind by social development get their fair share of the development fruits.
Cai Fanghua, commentator, via Sina micro blog, Oct 17
To boost the economy, China needs to exploit domestic demand. Poverty reduction is a good way of realizing that because it will release the consumption potential of a huge population. That will be what makes China's economic growth sustainable in the long run.
People's Daily, Oct 18
We advise the nation to shift the over-capacity in the eastern, coastal regions to the middle and western underdeveloped provinces by investing in infrastructure and public services there, as well as in industries that are less dependent on geographic location, such as the Internet and tourism. This will in turn lead to better development of these industries and reboot economic growth for the nation.
Huang Chengwei, deputy director of the International Poverty Reduction Center in China, Oct 17