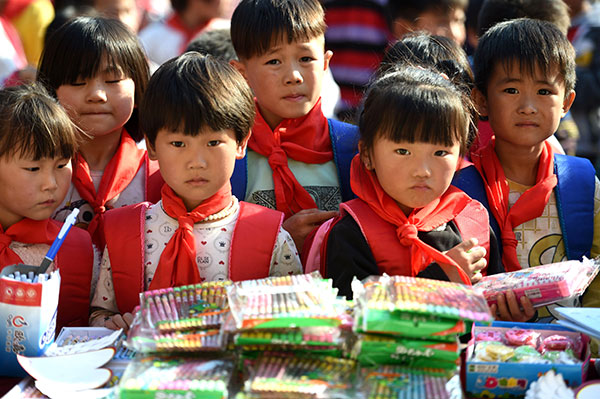 Children from poor families in Bozhou, Anhui province, receive stationery donated by volunteers. China will work hard to lift about 70 million people in rural areas out of poverty by the end of 2020. LIU QINLI/CHINA DAILY
Since it launched its reform and opening-up in the late 1970s, China has made great achievements in alleviation of poverty in the country. However, it still faces great challenges to achieve the goal of completely eliminating poverty and pulling the poor above the current standard set by the central government by 2020. More efforts are needed to support further reform and innovation to achieve this goal.
According to the World Bank's latest purchasing power parity standard of $1.9 per day, China's urban and rural impoverished population numbered more than 114 million in 2012, down by 641.68 million since 1990. This accounted for 60.74 percent of reduction in the global impoverished population.
But at the end of 2014 there were still 70.17 million rural impoverished people in China living below the government's official poverty line of 2,300 yuan ($362.5) per capita net income per year.
Despite this, the living standards of China's impoverished population and the development conditions in impoverished regions have been comprehensively improved. In the past more than three decades, China has made great achievements in providing rural citizens with safe water, housing, power, transportation, compulsory education, medical care and old-age security. The economies, public services and development capabilities of impoverished regions have also been improved.
China's success in poverty alleviation has mainly benefited from its application of a comprehensive poverty alleviation system, which allows the government, market and social organizations to play their roles in this cause.
The country employs a poverty alleviation system that includes cultivating market organizations, industrialization and urbanization to promote sustainable and rapid economic growth, increasing impoverished people's ability to share the benefits of growth through target-oriented alleviation, helping vulnerable groups avoid being further marginalized through social development and the social security system, and applying poverty alleviation strategies in ecologically fragile and inhospitable regions.
Moreover, China's poverty alleviation work is mainly led by the Chinese government, although companies and social organizations also play important roles to varying degrees. The government leads and coordinates poverty alleviation efforts. Poverty alleviation has been integrated into the national social and economic development plan as a key part of government work. This guarantees necessary government support to poverty alleviation. The government also arranges and distributes resources to guarantee necessary investment in poverty alleviation. It adjusts or makes policies and rules to provide necessary system guarantees.
The private sector makes its contribution to poverty alleviation by providing job opportunities and demand for products, paying taxes and directly providing aid. While social organizations mobilize social resources and promote innovation in poverty alleviation efforts.
However, China still faces great challenges in its poverty alleviation work. First, to achieve the central government's goal of eliminating poverty under the current standard by 2020, China has to lift more than 10 million people out of poverty each year over the six consecutive years starting this year.
Second, the impoverished population and the cause of poverty have changed over the years. At present middle to elderly people and sick people make up a majority of the poverty population, and a majority of the impoverished population lives in social and economic undeveloped regions. These all increase the difficulty for effective poverty alleviation.
Third, China's domestic economic downturn has reduced new employment and financial support accordingly, which will also put pressure on poverty alleviation work in the coming years.
The Chinese government and all social sectors should make more efforts and focus on reform and innovation to solve the problems. The country should optimize and innovate the government poverty alleviation strategy, plan and management, and implement more effective targeted alleviation methods, in order to improve the efficiency. The government should adopt more appropriate policies and measures, and actively support small and micro enterprises that create job opportunities for people in the low-income group. At last, China should further improve the social support and social security system, including serious illness assistance, old-age insurance and the new type of cooperative medical care service. With focused and more coordinated efforts, the goal of eliminating poverty in the country can be realized.
The author is a researcher with the Rural Development Institute at the China Academy of Social Sciences.