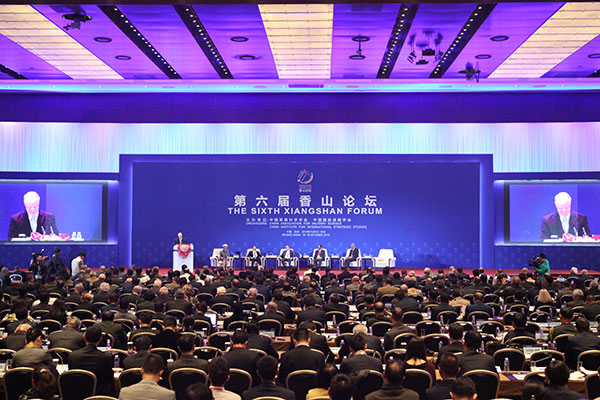 The 6th Xiangshan Forum is held in Beijing, Oct 17, 2015. [Photo/Xinhua]
Addressing the sixth Xiangshan Forum on Friday, the Vice-Chairman of China's Central Military Commission Fan Changlong stressed construction on the Nansha Islands serves mostly civilian purposes, as it not only improves navigation but provides more public services.
This is China's latest response to recent allegation by the United States that China's island building activities in the South China Sea are militarizing the waters.
But countries such as the United States have deliberately played up the issue and criticized China's legitimate rights to build civilian and public facilities in its own territorial waters. At the Xiangshan Forum Admiral Gary Roughead, retired US chief of naval operations, pointed another accusing finger at China.
"The rapid expansion of land features in the vital sea lanes of the South China Sea heightens suspicion and presents the potential for miscalculation," he said, adding that the construction "raises legitimate questions regarding militarization".
The US Navy is reportedly preparing to send warships within 12 nautical miles of Chinese islands in the South China Sea in the next few days, in what it says are "freedom of navigation" operations. Nothing is more absurd than the US' logic that China's lawful construction activities in its own waters is tantamount to militarizing the waters, while it sending warships to those same waters is not.
Washington's real intention is to mislead the public and shrug off its responsibility for raising tensions with China.
However, it is the US frequent military maneuvers in the South China Sea that pose the real threat to regional peace and stability. The US' latest provocation is counterproductive as it risks a strategic misjudgment, and may even lead to a conflict. Should such a scenario happen, it will serve neither country's interests, let alone secure peace and stability in the waters.