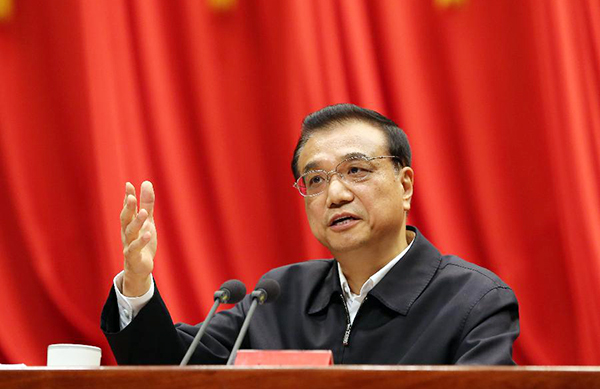 Chinese Premier Li Keqiang gives a lecture at the Party School of the Communist Party of China (CPC) Central Committee, in Beijing, capital of China, Oct 23, 2015. [Photo/Xinhua]
It is essential to be innovative when drawing up macroeconomic regulation and reform measures, as they are expected to promote economic growth and industrial upgrading, Premier Li Keqiang said Friday.
More targeted and flexible macro-control measures should be rolled out, including fiscal and monetary policies, such as interest rate and reserve requirement ratio cuts, which would keep the economy running on a stable track, Li said at the Party School of the Communist Party of China (CPC) Central Committee.
The People's Bank of China (PBOC) announced on Friday to cut the reserve requirement ratio (RRR) of banks by 0.5 percentage points starting from Saturday.
The benchmark interest rates for one-year loans and deposits will be cut by 0.25 percentage points to 4.35 percent and 1.5 percent respectively.
This was the fifth RRR reduction in nearly nine months and the sixth round of interest cuts in nearly 11 months, amid efforts to further reduce the cost of financing and ensure reasonably adequate liquidity in the banking system.
As China's economic growth continues to slow and global financial markets fluctuate, China faces the tough task of stabilizing growth.
It is necessary to continue opening up and implementing measures that focus on fiscal, taxation, banking, and state-owned enterprises, to achieve this end, Li said.
Li also highlighted the innovation-driven development strategy, adding that innovation and mass entrepreneurship would inspire creativity while promoting the development of enterprises, and facilitate upgrading in traditional industries and growth in emerging ones. The strategy will also help boost the service and manufacturing sectors.
The final goal of economic growth is improving the people's livelihood , Li said. The government should coordinate market and society resources to improve fields related to the interests of the people, such as employment, education, health care, housing renovation, social security and poverty relief.
China's GDP expanded 6.9 percent in the third quarter of 2015, the first time the quarterly growth rate has dropped below 7 percent since the second quarter of 2009.