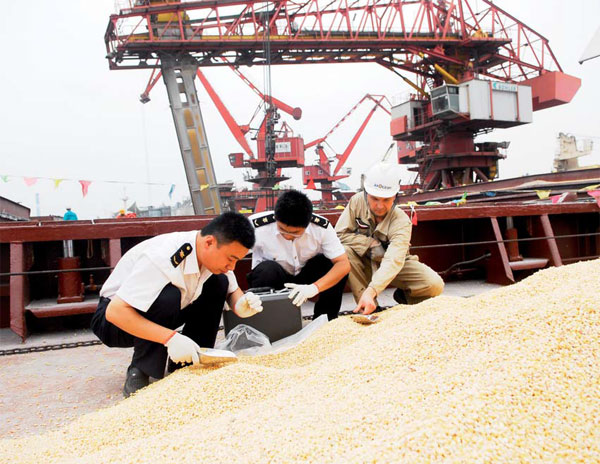 Customs officers inspect imported corn at a port in Lanshan, Shandong province. Provided to China Daily
Measures to prevent pilferage and increase warehouse capacity soon, says SAG official
The State Administration of Grain will further tighten its policies on grain reserves and increase the size of the granaries to prevent pilferage and the losses due to substandard cereal storage facilities.
He Yi, the SAG's chief engineer, said China will introduce more decisive measures, including legal measures, to check against internal corruption and bolster grain security. Other steps include additional video surveillance at granaries and contingent random, periodic inspections, he said.
The SAG official's comments came after both central and provincial grain authorities sealed about 25,000 metric tons of rice at a warehouse in Tieling, a city in Liaoning province earlier this month, following reports on China Central Television that it had bought old rice and stored it as fresh stocks.
To ensure sufficient fields can be farmed and protect farmers' interests, the government guarantees minimum purchase prices for the agricultural products procured by State-owned warehouses.
Grain reserves are dominated by the State-owned China Grain Reserves Co, which last year had 346 central grain warehouses across the country. Under the rules, each warehouse must divest its old stocks and replace them with new grain purchased from farmers.
The company purchased 125 million tons of grain in 2014, accounting for about 20 percent of China's grain output, according to data from the China National Grain and Oils Information Center.
Zhang Jiang, a researcher at the Chinese Academy of Agricultural Sciences in Beijing, said the government should utilize the services of third-party agencies-both domestic and international-to supervise and streamline the grain reserve norms on a national basis.
The center estimated that one-fourth of China' stored grain reserves has expired or is in poor condition and more than 20 million tons of grain is wasted every year.
"Grain reserve companies must build more room for new grain by selling old stocks and conduct special inspections to ensure that all the national granaries are efficiently used for storing grain," said Zhang.
To maintain the balance in supply and demand of staples, the government plans to build new storage facilities that can store 50 million tons of grain this year in grain-producing regions, especially in the country's northeastern and southern provinces.
The public-private partnership model will also be applied to enrich the category of capital investment in the new round.
Yan Bo, director-general of the department of policy and law at the SAG, said the administration's next work priority is to develop grain logistics to save up to 2 percent of the losses in grain transportation, as well as encouraging the construction of storage buildings with drying facilities by farmer cooperatives and major specialized farming households in the main grain-producing areas.
Eager to ensure food security, the central government and the private sector invested a combined 22.15 billion yuan ($3.47 billion) last year into grain storage, logistics, and emergency response systems and facilities that can respond quickly to earthquakes, typhoons or other types of extreme weather conditions that could affect grain supply.